Lincoln Relay For Life schedule formalized

Send a link to a friend
[MAY 11, 2006] Relay For Life is May 20 and 21 at Lincoln Christian College and Seminary. The event begins with a survivor lap at 1 p.m. on May 20, continues with team relays throughout the evening and ends up at Lincoln College with a brunch from 9 a.m. to 1 p.m. May 21.
There will be concessions and entertainment throughout the day.
1-4 p.m. -- Antique car show and American Legion 40&8 locomotive

1-10 p.m. -- Silent auction and 9-hole "frizz bee" golf course

1:30 p.m. -- TRASH band from Lincoln Christian Church

2 p.m. -- Audra's dancers

3 p.m. -- TRASH band from Lincoln Christian Church

3-5 p.m. -- Fire department safe house, police department D.A.R.E. car and info, sheriff's department D.A.R.E. dog

4 p.m. -- Scott Brown's tae kwon do

5 p.m. -- YMCA family activities

5 p.m. -- Live auction with Mike Maske

6:30 p.m. -- Praise service with Anthony Atkinson and the Siltmans

8:45 p.m. -- Reading of the luminarias

10 p.m.-1 a.m. -- Kevin Curry DJ and dance
Bring your family and enjoy the day.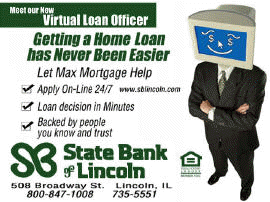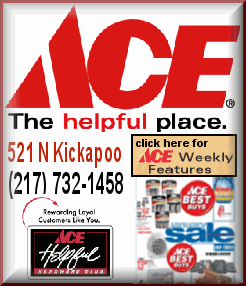 Event chairs for 2006 are John and Frankie Guzzardo. Feel free to contact them with any questions you may have or any help you might want to offer by phoning (217) 732-9757.
Auction donations are being accepted. Please contact Dennis Cooley at (217) 732-7789.
To purchase luminarias, $10 each, "in memory of" or "in honor of," please contact Marilyn Armburst at (217) 732-4261 or Bill Post at (217) 732-7564.
The American Cancer Society Relay For Life represents the hope that those lost to cancer will never be forgotten, that those who face cancer will be supported and that one day cancer will be eliminated. We are teaming up for the fight, but there is no finish line until we find a cure. We need your help.
[Provided by Karen Hargis]