IDOT honored by Illinois Rehabilitation Association

Send a link to a friend
Agency and employee are recognized for efforts to help Illinoisans with disabilities surmount workplace barriers
[MAY 13, 2006] SPRINGFIELD -- The Illinois Department of Transportation and one of its employees were singled out by the Illinois Rehabilitation Association for their path-breaking efforts in hiring, promoting and eliminating barriers for people with disabilities.
The awards were announced at the Illinois Rehabilitation Association's 50th annual conference in Peoria on May 8. The Department of Transportation received the Organization Rehabilitation Service Award, which goes to an employer outside the rehabilitation field. The Department of Transportation is the first state agency in memory to receive this award. The department was singled out for its efforts to hire, train and promote people with disabilities and to eliminate barriers they face in the workplace. In addition, David Dailey, the Americans with Disabilities Act specialist in the department's central office in Springfield, received the Personal Achievement Award.

The association specifically lauded a groundbreaking program that Dailey was instrumental in launching in which high school students with disabilities are brought into the department's headquarters, are teamed up with mentors and provided the opportunity "to learn work skills in a real-world setting."

"This is a great honor for the many employees at IDOT who have worked so hard to implement not only the letter of the Americans with Disabilities Act, but the spirit of the Act," said Illinois Department of Transportation Secretary Timothy W. Martin. "Under the leadership of Governor Rod R. Blagojevich, this administration has made it a priority to ensure that no person with a disability will be prevented from fulfilling his or her potential."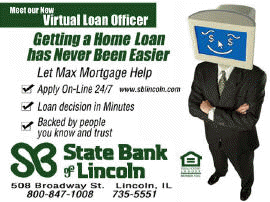 In nominating the Department of Transportation for the award, it was said that the agency has been "one of the lead agencies in the hiring of supported employment candidates." The department was described as "always willing to make accommodations so that the right person can be on the job." The nomination continued: "Recently, IDOT has again emerged as a leader among employers. With the help of their ADA coordinator (Dailey), they have initiated a new training program that works with high school students with disabilities."
Of Dailey, the association said: "His work with persons of disabilities has been tireless. Many people with disabilities are employed with the state of Illinois due to the efforts of Dave Dailey."
Dailey, a graduate of MacMurray College in Jacksonville, has worked for the Department of Transportation for almost 14 years.
[Illinois Department of Transportation news release]