Dear Editor:

Sheriff Steve Nichols is not a politician. He is a public servant, and he has done what he promised us four years ago. He has worked to reduce the burden to taxpayers while increasing patrols and security for the citizens of Logan County.

During his first term, Sheriff Nichols made an administrative decision to adjust the work shift of officers, which has expanded law enforcement patrol coverage throughout Logan County. That decision has also eliminated $360,000 in excess benefit time, resulting in saving taxpayer dollars.

Using grant funds, Sheriff Nichols and his staff have doubled the number of in-squad-car computers and updated radio systems, providing officers with enhanced technology and more efficient communication systems, creating a safer working environment.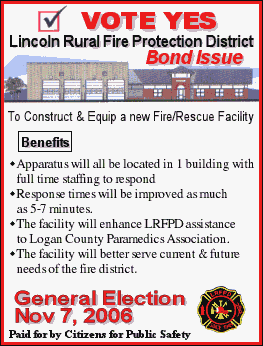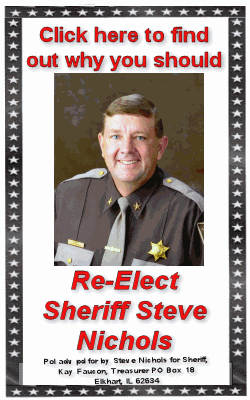 In the jail, Sheriff Nichols has instituted a booking fee process, which generates an additional $24,000 in revenue annually to the county general fund. In addition, the sheriff negotiated an in-house medical services contract for those incarcerated in the jail, resulting in considerable savings to the county for inmate medical costs.
We will be voting on Nov. 7 to keep Sheriff Steve Nichols and his staff working for us for another four years, working within a budget and doing his best to do more with less tax money while continuing to make Logan County a safer place to live. We urge all concerned citizens to support Sheriff Steve Nichols, the only candidate with administrative experience.
Sincerely,
Carissa Kutz
Lincoln
(Posted Nov. 4, 2006)