Civil War, politics, Italians, plague and more

Send a link to a friend
It's all at the Oct. 12-13 Conference on Illinois History
[OCT. 3, 2006] SPRINGFIELD -- A wide range of topics, from the Civil War to ethnic and social history, will be presented during the eighth annual Conference on Illinois History, scheduled for Oct. 12 and 13 in Springfield. The conference is sponsored by the Illinois Historic Preservation Agency.
Sessions will be at the Prairie Capital Convention Center, with the Thursday evening banquet at the Abraham Lincoln Presidential Museum.

Oct. 12 sessions: Southern Illinois and the Natural Environment; WPA Art in Illinois; Civil War Memories I; John Peter Altgeld; Sports; Science and Society in 20th-Century Illinois; Panic and Plague in Antebellum Illinois; Frontier Illinois; Journalism; 20th-Century Chicago; Civil War Legacies; Economic and Social Development; History Sleuths; and Railroads in the 1850s. The luncheon speaker, Kerry Trask, will discuss Black Hawk, the Sauk Indian leader whose name is associated with the Black Hawk War. The Thursday evening banquet speaker will be author James Green, who will discuss the Haymarket riot.

Oct. 13 sessions: Italians in Illinois; 20th-Century Politics; Illinois Families; Illinois Justice System; Creating Communities; Lincoln Studies; African American Experience in 19th-Century Illinois; Art in the Gilded Age; Civil War Memories II; Landscape and Architectural Design; Topographical Town Scenes in Vachel Lindsay's Universe; Abolitionists and the American Memory; The Civil War Home Front; and World War I. The lunch speaker will be author Robert Bray, who will discuss Peter Cartwright and Abraham Lincoln.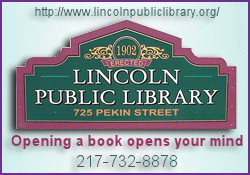 Teacher workshops during the conference are entitled "Juvenile Fiction on Abraham Lincoln"; "Resources to Use in Your History and Geography Classroom"; "Using Newspaper and Magazine Online Indexes for Research Topics"; "Enhancing Student Comprehension by Utilizing Primary Sources Relative to Illinois History"; "Illinois Political History"; and "Illinois Abolitionist History." Teachers can earn one certified professional development unit per conference session hour.
Registration forms are available at www.illinoishistory.gov/conference.htm or by calling 217-785-7933. The registration deadline is Oct. 10.
[Illinois Historic Preservation Agency news release]