CLASSIFIED ADS
---
---
---
---
Garage sale: 612 N. Sherman, Lincoln, Ill. Oct. 13, 2-7 p.m., and Oct. 14, 11 a.m.-1 p.m. Tons of hunting equipment, tree stands, ground blinds, calls, clothing, etc. Misc. household items, lots of outdoor toys, kids games, tons of books for kids. Girls clothes 4T to 16. Baby items. Truck topper for full-size Chevy or GMC, in good condition.

Send a link to a friend
---
ESTATE AUCTION of Tom and Donna Oldham
Oct. 21, Saturday, 11 a.m.
734 N. McLean St., Lincoln, Ill.
Home and corner lot will sell day of auction.
OPEN HOUSE Oct. 14, 11 a.m.-1 p.m.
Tools, pink Depression, hobnail, household items, collectibles, too many items to list. Check www.johncraigauction.com for complete listing.

Send a link to a friend
---
---
For sale: 1992 Ford E-350 bucket van. 35-foot working height. Diesel. New tires, rear end, master cylinder, brakes. Call Lincoln Land Communications, 735-5454, and ask for Josh or Dennis.

Send a link to a friend
---
Get the Hottest Christmas Item for 2006!!! $650. 110cc ATVs, remote starts and stops, alarm, four-stroke, electric start, headlights, brake, several colors. Barbed Wire ATV, www.4wheelerforkids.com, Elkhart, Ill., 815-985-9151.

Send a link to a friend
---
---
Also check under Misc. for Sale.
---
---
The Logan County Health Department is accepting applications for an immediate opening in the financial division. The duties may include R/AP/GL, payroll, budgets and spreadsheet applications. Proficiency in MS Word, Excel and accounting software is essential. The ideal candidate will have an associate degree in business or accounting with two years' experience in accounting, or a bachelor's degree in business or accounting with one year experience in accounting. The candidate must also have supervisory experience and must be able to communicate effectively both orally and in writing.

Benefits include paid vacation, sick time and 13 holidays. Candidates must be dependable, enthusiastic and have a valid driver's license and reliable transportation.

If interested, complete an application at the Logan County Health Department, 109 Third St., Lincoln, IL 62656. For more information, contact the Logan County Health Department at 217-735-2317. You may fax or e-mail your resume and cover letter to 217-732-6943 or lchd@logancountyhealth.org.

Send a link to a friend
---
Ad sales person wanted: Part-time opening for outgoing personality to help local businesses gain exposure and sell their wares. Must be organized, ambitious and enjoy working with people. Please send a resume with references: ldneditor@lincolndailynews.com.

Send a link to a friend
---
Are you underemployed? Thinking about a new career? Here's your chance to make a change! MWCI, an area leader in machining, welding and tube bending, is seeking highly motivated individuals for second and third shift positions. Openings currently exist for:
CNC Mill or Lathe Operators

CNC Tube Benders

Mig or Tig Welders

Production Machine Operators
Experience preferred, but we are willing to train the right people. In addition to our attractive benefit plan, we offer a competitive hourly rate. Qualified applicants apply at: MWCI, 70 Commerce Dr., Morton, IL or e-mail opportunities1@mortonwelding.com.

Send a link to a friend
---
---
---
---
Auto keys found in CCA parking lot. Call 217-737-5965.

Send a link to a friend
---
---
FREE... Hotpoint gas range. White with black front. Works and looks good. 737-7304.

Send a link to a friend
---
Kenmore electric dryer, avocado green, works good; Whirlpool electric clean-top stove, almond; Whirlpool refrigerator, 18 cu. ft., almond. Call 732-9327 after 5 p.m. or anytime on weekends.

Send a link to a friend
---
For sale: Three multi-line office telephones: one cordless Casio PhoneMate two-line phone with built-in answering machine, two GE three-line corded phones, all with hold, indicators and conference. Excellent condition. $200 for all three. Call 217-737-5965.

Send a link to a friend
---
---
---
---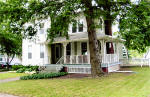 For sale: Beautiful historic home at 518 College Ave.; 4 BRs, 2 baths, CA, gas FP, basement, deck, 2-car detached garage with workshop. Mature trees on a big double lot. 732-4834.
[click on picture for larger image]

Send a link to a friend
---
---
Lincoln -- 1 bedroom apartments.
Call for details. 871-2929

Send a link to a friend
---
---
---
---
---