RESOLUTION: IN APPRECIATION
PROCEEDING BEFORE THE LOGAN COUNTY BOARD
Lincoln, Illinois
October 17, 2006
Logan County Animal Control Administrator
Dr. Lester G. Thomson, D.V.M.
March, 1979-June, 2006
WHEREAS, Logan County throughout its history has been blessed by those individuals and their families who have made a difference in the County's quality of life and Dr. Lester G. Thomson is one of those persons; and
WHEREAS, Lester G. Thomson moved to Central Illinois when he was ten years of age from Wisconsin and with a farm background became interested in the field of veterinary medicine before he entered high school; and
WHEREAS, Dr. Thomson's pre-vet education began at Western Illinois University and concluded with a Doctor of Veterinary Medicine Degree from the University of Illinois in 1961; and
WHEREAS, Dr. Thomson served his nation in active military service in the Veterinary Corps for eight and one-half years during which he spent time in Omaha, Nebraska, Japan, New York, and Germany; and
WHEREAS, following his years in active military service Dr. Thomson joined the staff at the Illinois Department of Agriculture in 1970 where his responsibilities included Meat Inspection and Animal Health; and
WHEREAS, while conducting his work at the Illinois Department of Agriculture Dr. Thomson contributed to the eradication of tuberculosis, brucellosis and pseudorabies -- all diseases of animals -- in the State of Illinois; and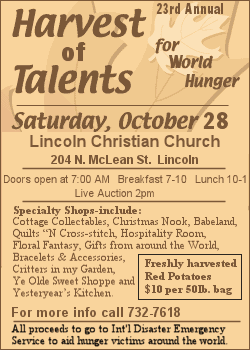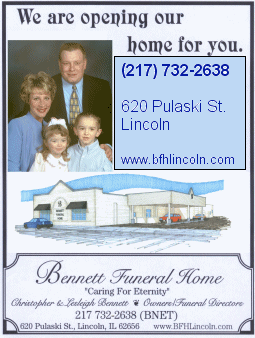 WHEREAS, another twenty-three and one-half years were spent in the Military Reserves where goodwill military missions took him to Honduras, Panama, and Ecuador; and
WHEREAS, Dr. Thomson and his family became involved in community affairs and was one of the founding families of the Jefferson Christian Church and are active participants in many of that church's activities both at home and abroad; and
WHEREAS, the Thomson family has been actively involved in the Lincoln/Logan County Food Pantry, the American Cancer Society, and the March of Dimes, all for the purpose of improving the quality of life for the citizens of Logan County; and
WHEREAS, Dr. Lester G. Thomson, D.V.M. began his professional activities at the Logan County Animal Control Center in March, 1979 and after twenty-seven years of service, the latter as Logan County Animal Control Administrator, retired in June, 2006; and
WHEREAS, during that period he contributed many hours of service without pay during the "Dog Days Adoptathon" and at the adoption tent during the Logan County Fairs
WHEREAS, Dr. Lester G. Thomson served as the Logan County Animal Control Center Administrator and the citizens of Logan County with honesty and integrity and as the Administrator kept the best interest of animals and the citizens he served at heart.
BE IT FURTHER RESOLVED, that on this date the Logan County Board does hereby express its appreciation for his honesty, his dedication and hard work in his profession to the citizens of Logan County.
Above Resolution acted on by a roll call vote of the Logan County Board in open meeting on October 17, 2006.