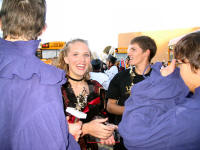 "Metamora Win 2006"
Drum major Annie Sheley clutches the trophy awarded to the Marching Railers for winning first in class at the Metamora Parade and Field Invitational on Oct. 14.



"Metamora 2006 Win Seniors"
Some of the Marching Railers senior members pose with drum major Annie Sheley and director David Swaar. The Railers brought home four first-place trophies.

Kneeling in front are Lincoln Moore, Ashley O'Neill, Annie Sheley, Wes Schrader and Jared Andreasen. Second row: Megan Moos and David Swaar. Standing: Hannah Snyder, Tim Wiser, Ariel Lopez, Jonathan Lessen, Martin Oltmanns, Daniel Parson, Andrew Kleinman, Chris Powley and Rhiannon Hoagland.