The governing body responsible for overseeing growth in the county is the Logan County Regional Planning Commission. The commission set forth almost two years ago to revise the county's 30-year-old, outdated, useless text and make it useful again. Unlike the previous plan and commission, this group is set to make it a powerful tool for the active communities, lead them in its use, get them to bring their community plans up to date and even hope to bring in some of the communities that have not been participating in order to help them.

Wednesday night, commission members heard the recommended revisions that came from public hearings in the current active communities of Atlanta, Elkhart, Mount Pulaski and Lincoln. Then the commission president, Bill Glaze, took additional public comments.

Most of the changes were minor corrections to zoning, street identifications, mislabeled properties and the like.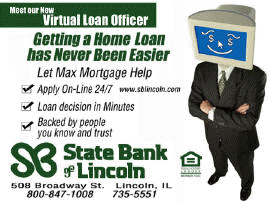 The city of Lincoln is advised to plan zoning for 1 1/2 miles beyond the city limits. Along with that goes a look at development at the interchanges. The western entrance is the seat of current development. The interchange to the south is considered not likely for development due to natural disruptions, such as Madigan State Park.
However, Exit 133 to the north holds high potential, with interests in commercial development already being expressed.
Also aiding development to the northeast, identified under the transportation plan, an airport study recommends extending runways and adding jet fuel.
A concern for private property owner rights led to new wording that will be included in the plan. It reads as such:
Real estate/real property "bundle of rights":
Rights include:
Right of possession;
Right to control the property within the frame of the law;
Right of enjoyment (to use the property in a legal manner);
Right of exclusion (to keep others from trespassing, entering, using);
Right of disposition (to sell, will, transfer or encumber)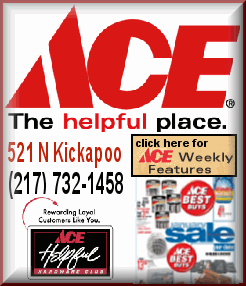 Nothing contained in the Logan County Comprehensive Plan will in any way interfere, alter, distract, infringe, restrict, limit, impede, remove or encumber any landowner's bundle of rights. The landowner may have private enjoyment of the rights that are guaranteed by law in the United States Constitution.
County representatives and community mayors said that they would be putting this language past their lawyers for approval first.
During public comments Dr. Ron Pierce questioned identifying property due east and northeast from Eaton as light industrial. The property is currently zoned for agriculture. It was once being considered for an ethanol plant, but feasibility studies were stopped when it was discovered that it was heavily undermined. Pierce questioned if this property should be labeled for industrial development when it might be not be suitable. It might be time-consuming for businesses seriously considering locating here when they could be looking at more suitable properties.
A McLean County expert in land use, Jennifer Sicks, said that it was targeted for its transportation accessibility to highways and railroads.
Logan County Planning and Zoning director Phil Mahler said he thought that it would still be a viable property for light industry. He said that most of Lincoln and the trek south to Mount Pulaski is also mine subsidy and has a lot of industry on it.
The property borders Lincoln city limits and as such is part of the 1 1/2-mile outlook for the city. It would likely be annexed into the city if developed. Mayor Beth Davis agreed to take it under advisement and discuss it with the city engineer.
Pending the revisions discussed, the commission voted unanimously to approve the preliminary draft of the Logan County Comprehensive Plan and recommend its acceptance to the Logan County Board.
The plan will be presented to the Logan County Board on Sept. 14 and go up for a vote on Sept. 19. Both meetings will be at 7 p.m. at the Logan County Courthouse.