I don't usually write articles for out-of-town volleyball matches. I don't usually write about two matches at once. But something tells me that this is not going to be a usual volleyball season for the Lincoln Lady Railers. So, I'll write and I'll give you some examples of "unusual" in a moment.

This week the Lady Railers traveled twice to the towns that have proclaimed themselves to be central Illinois' volleyball capital. And while the few hairs I have left on the back of my head bristle at such a self-designation, Bloomington and Normal (especially Normal Community) certainly have had the Railers' "number" over the years. Maybe they are right -- but you would never catch me acknowledging it, not even with my last dying volleyball breath.

On Tuesday and Thursday, the Lady Railers headed to Bloomington High School and then Normal West High School to disprove the Bloomington-Normal theory. They were partially successful. The Railers, I thought, played well in both matches. They even played better overall perhaps in their loss than they did in their victory. That's unusual.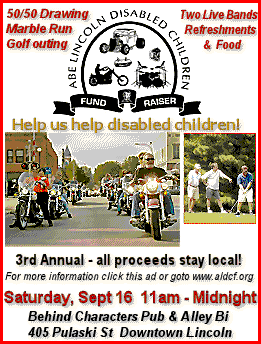 At BHS on Tuesday night, I observed some previously unseen "fire" in the Lady Railers. For instance, Natalie Boward played as well as I have seen her play this senior year. She blocked everything in reach of her, including, by my count, three successive blocks on one play against BHS' star player Kristin Petrinec. Ashley Bonaparte did a great job at the service line especially and also in her co-setter role.
On the negative side of the coin, though, the Railers were weak on their initial serve-receive passes, especially when Bloomington's excellent server Lisa Bogle was at the line. My play-by-play notes also showed that the other thing that killed Lincoln's hopes of winning was, on at least five occasions during the match, that immediately after a great Lincoln point, the very next Lincoln serve was in the net or out of bounds.
Overall though, I thought the Railers looked much better, much more inspired and, well… much more like the Lincoln Railers, even though the end result was a BHS victory.
The Thursday night trip to "mecca" was expected to be a lesser challenge as a young Normal West team took on the more experienced Railers.
Game one was a game of "thirds." It was close at the start, and then the Railers pulled away during the midpoint of the game. Normal mounted a comeback attempt in the final third of the game, but the Railers held on for a 25-21 win.
I thought Chrissy Schonauer was the difference-maker in game one, where she collected all four of her kills for the night. During the Railers' midgame run, on three successive plays Chrissy received some excellently chosen sets from Ashley Bonaparte and finished for Railer points. Lincoln was up 16-10 after the third Schonauer kill. Quite appropriately Chrissy was the one to put an end to the game with her fourth kill.
Ashley Myrick did an excellent job of serving in the first game, as did Natalie Boward. Kate Schonauer also had a good match at the net.
In game two the Railers had to come from behind to secure the victory. For the first part of the game the Railers were on "overkill" mode and Normal was not going down without a fight on its home court. Throughout the game, for whatever reason you want to attribute it to, the Railer net players were knocking ball after ball into the net during kill attempts. Coach Howe had a little discussion with the front line and the setter when the score stood at 6-11 in favor of Normal. After the timeout, the Railer serve-receive defense collapsed for a few plays and the score was 6-14.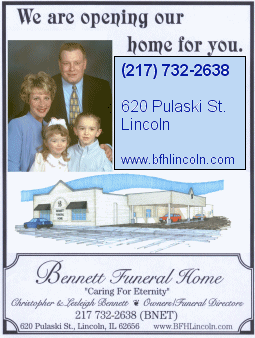 The Railers began their comeback largely on the strength of the front-row play of Jamie McFadden and the nice serving of Molly Goodrich. With the score at 12-16 in favor of Normal, the next four Lincoln points came on McFadden kills, one of which sent the entire West back row running for cover. Normal was then unable to handle six successive serves (say that five times real fast) from Molly Goodrich, and Lincoln was finally up 19-18. The remainder of the game was a series of mistakes by the Wildcats where ball after ball was hit into the net or long. Abbie Feldman, who had a really nice match overall, put an end to Normal's night with a kill to put the final score at 25-20.
So, overall the week was a draw from a win-loss perspective but a win overall for improvement and effort by the Railer ladies.
But it was still unusual. I promised some examples. For instance, usually the Lady Railers have one or two dominant players on the court. This year, it appears, so far, they will have a varied combination of players who will rotate in and out and who will be effective to varying degrees on different nights. For instance, usually the Lady Railers have one, maybe two, highly emotional floor leaders to whom the team is always looking to direct the Railer attack. This year, so far, no one person has yet assumed that role. Usually I sense a strong spirit of "team"; so far this year, I just haven't. For instance… well, that's enough for now. Let's see how the season progresses. It's unusual… or maybe the team IS its usual self and I'm just the unusual one. I never want to overlook that as a possibility.
The varsity will travel to St. Francis Borgia High School in Missouri on Friday (today) to play in a tough weekend tournament, where the Lady Railers will look to avenge some summer tournament losses suffered at Rolla, Mo. All of the Railer teams will return home to play Urbana on Sept. 14. GO, RAILERS!!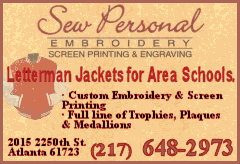 Junior varsity has a tough week
The younger Lady Railers had a double-loss week, falling to 2-2 overall with losses to both Bloomington and Normal West. Unforced errors at the service line and numerous net violation calls doomed an otherwise well-played match against BHS. The JV fell in two games by a score of 20-25, 23-25.
Emily Berglin and Amy Kelly had good matches, combining for 15 assists while setting and a total of 10 service points. Hilary Hobler had a team-high seven kills. Laura Aughenbaugh played well at the net in both blocking and hitting.
In the Thursday night match against the Wildcats from Normal West, the Railers looked unbeatable in game one (25-16), played a close game two (21-25) and shot themselves in the foot in game three (14-25).
For the Lady Railers, Emily Sheley had five kills and eight service points. Amy Kelley had nine service points and 13 assists. Laura Aughenbaugh had four blocks. Hilary Hobler had seven service points and three kills. Emily Berglin and Hannah Sheley each had five kills. The Railer libero, Hannah McShane, had a team-high 11 digs.
[Rick Hobler]
Respond to the writer at rhobler@lccs.edu.