During the Abraham Lincoln National Railsplitting Contest and Crafts Festival
Logan County Genealogical and Historical Society to host cemetery walk

Send a link to a friend
[SEPT. 15, 2006] For the first time ever, the Logan County Genealogical and Historic Society has teamed up with the Logan Railsplitting Association to host a cemetery walk in Old Union Cemetery. On both Saturday and Sunday, the walk will begin at 10 a.m., 1 p.m. and 3 p.m. This new event is open to the public and is presented in hopes of connecting you with the people of Logan County's past and to build pride in our community.
The walk will feature early settlers and prominent people of Logan County. Local impersonators in period costume will give a brief history of each person.

The individuals featured include the following: Josephine Davis Wodetzki of the Daughters of the American Revolution, portrayed by Julia Gerardot and Pat Glenn; Fred CW Koehnle, portrayed by Tim McCormick; Lucy Evans, portrayed by Jean Gossett; James Primm, portrayed by Jeremy Norton; Judge Stringer, portrayed by Ron J. Keller; Aaron Dyer, portrayed by Quintin Veasley; and Edmund Rankin, portrayed by Bob McCue.

This is the first cemetery walk that has been hosted in Lincoln, and a positive response is anticipated.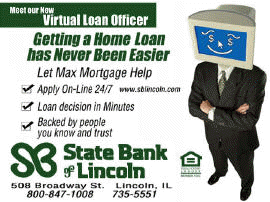 For more information about the cemetery walk, please call the Logan County Genealogical and Historical Society at 217-732-3200.
For more information on the other events happening at the Railsplitting Festival, visit www.railsplitting.com.
[Abraham Lincoln Tourism Bureau of Logan County news release]