Fall work by teens provides spring visual for Alcohol Awareness Month

Send a link to a friend
[April 10, 2007] Alcohol Awareness Month spotlights underage drinking and the destructive effects it can have on the nation's youth. Underage drinking is a complex problem, one that can only be solved through a sustained and cooperative effort between parents, schools, community leaders, interested organizations, individuals and America's youth.
The Lincoln High School Peer Leaders and members of the REALITY team continue to send a consistent "no drug" message to young people. The Red Ribbon campaign is the oldest and largest drug prevention program in the nation. During Red Ribbon Week (Oct. 23-31, 2006), members of these groups participated in the Red Ribbon campaign by planting "promise" tulip bulbs in the city of Lincoln. Look for the arrival of these red tulips that send the message of alcohol awareness throughout the community!

Six tulip locations:
Lincoln entrance sign -- Lincoln Parkway

North Kickapoo -- advertisement sign across from Lincoln subdivision

Lincoln Parkway and Woodlawn road intersection -- fairgrounds side

Lincoln High School -- announcement sign

Each corner of the Logan County Courthouse

Lincoln entrance sign -- Route 66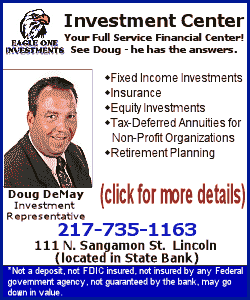 An integral part of Alcohol Awareness Month is Alcohol-Free Weekend, which takes place on the first weekend of April. This weekend is designed to raise public awareness about the use of alcohol and how it may be affecting individuals, families and businesses. During this weekend, all people are encouraged to engage in three alcohol-free days.
(See publicity.) [To download Adobe Acrobat Reader for the PDF file, click here.]
[Text from file received from the Healthy Communities Partnership]