An opening reception is planned from 7 to 9 p.m. on Thursday.

The show features painting, design, photography, drawing, ceramics items and illustrations. It will be open for public viewing until May 11.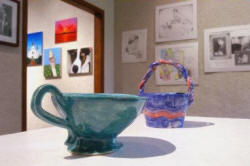 The student art exhibition at Lincoln College opens to the public on Thursday.
Lincoln College art instructor E.J. Miley says the students had fun with their projects. "The student art show represents the best of our studentsí studio work over the past academic year," he said. "The artworks are judged by the art faculty and reflect the time, hard work and discipline of our art students during the past two semesters."
He also encouraged the public to view the showing because the pieces will be available for purchase. For more information, see the student art catalogue available in the Layman Art Gallery.
[Text copied from file received from Lincoln College]