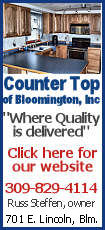 Police joined animal control officers Sunday after getting a call about a kangaroo dashing around a neighborhood. The animal was bouncing around as people scampered after the 3-foot-tall critter.
Maynard, who's being treated for a respiratory ailment, was finally cornered and caught.
Dr. Kyle Jones says he took Maynard home for the weekend so the animal could graze and run in the vet's backyard. A wooden gate blew open and Maynard got out.
The animal eventually will be placed with a zoo.
___
Information from Brett Johnson of KXAS-TV: http://www.nbc5i.com/
Copyright 2007 The Associated Press. All rights reserved. This material may not be published, broadcast, rewritten or redistributed.