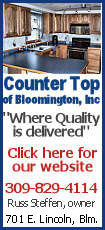 "What's up with the giant menorah and the Charlie Brown Christmas tree?" resident Rick Hoffman asked.
City Manager Edwin Eaton said he had looked far and wide -- all the way to Canada -- for a bigger tree but couldn't find one.
"This year is going to be kind of a 'bah, humbug,' Christmas," Eaton had said.
But on Wednesday the city of about 35,000 residents 25 miles southeast of midtown Manhattan found a tree to match the 20-foot menorah: a 20-foot blue spruce.
The old tree, a Bacheri spruce, was pruned of its lights, was dug up and was taken to a mall.
A lighting ceremony for the new tree is scheduled for Friday. Merry Christmas, Long Beach.
___
Information from: Newsday, http://www.newsday.com/
Copyright 2007 The Associated Press. All rights reserved. This material may not be published, broadcast, rewritten or redistributed.