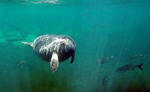 Manatees to Stay on Fla. Endangered List

Send a link to a friend
[December 06, 2007] KEY LARGO, Fla. (AP) -- Manatees will remain on Florida's endangered species list for now. The Florida Fish and Wildlife Conservation Commission decided Wednesday to delay a vote on removing the manatee from the list until the commission can review the animal species classification system.
The commission did not specify when the classification review may be done.
"Delisting the manatee has basically invoked concerns over the listing process," commission chairman Rodney Barreto said.
The commission had been considering whether to reclassify the manatee as a "threatened" species instead of "endangered."
Manatees have been on the state endangered list since 1979. This year's annual census recorded about 2,800 of the gentle animals in Florida water, up from around 1,300 counted during the first survey in 1991.
State experts say the aquatic mammals are no longer at imminent risk of extinction, the definition of endangered. Reclassifying them as threatened -- describing them as facing a high risk of extinction -- is more appropriate, state officials said.
It would not mean a change in the protection enjoyed by the species, and the manatee would continue to have federal endangered status. The state protections are largely based on creating slow speed zones for boaters to protect the animals from collisions.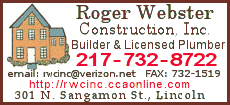 The biggest threats to the species are the loss of their favored warm-water habitats and boat propellers.
The commission on Wednesday did approve a conservation plan that calls for statistically sound methods to estimate the manatee population and monitor trends.
The plan also call for developing ways to prevent future manatee deaths due to habitat loss. That includes the potential loss of warm water habitats created around power plants as well as springs where manatees thrive.

Manatee advocates said they would have preferred the commission vote definitively not to move the manatee off the endangered list, but said they were happy with Wednesday's outcome.

"This is probably the best outcome we could have had," said Patrick Rose, executive director of the Save the Manatee Club.

Wildlife officials were to vote on manatee reclassification in September, but that was postponed at Gov. Charlie Crist's request so newly appointed commissioners could study the matter.

Crist said he was pleased with the commission's actions.

"Their action will keep the manatee on the endangered list and make sure that we continue to focus public attention on preserving this unique and important environmental treasure," he said.

___

On the Net:

Wildlife Commission: http://myfwc.com/manatee/

[Associated Press; By JESSICA GRESKO]

Copyright 2007 The Associated Press. All rights reserved. This material may not be published, broadcast, rewritten or redistributed.