Discoverers of Lincoln College mammoth tusk and tooth to give presentation at Dickson Mounds Museum

Send a link to a friend
[FEB. 15, 2007] Monty Python fans enjoy the "Bring Out Your Dead" farce, but Lincoln College sophomore Judd McCullum, who found a mammoth tusk during a class project last year, along with his teacher, Lincoln College professor of biology and earth science Dr. G. Dennis Campbell, will be giving a presentation on just that.
Both will be speaking at the Dickson Mounds Museum "Artifact ID Day," which asks the public to bring in their finds on Feb. 25 from 10 a.m. to 4 p.m. Dickson Mounds Museum is located near Lewistown, in Fulton County.

McCullum, who has been overwhelmed by people asking him to look at bones and various other related items that were found in area land tracts or creek beds, says this event is for those who have items that they have always wondered about. "I'm amazed at what is out there that we don't know about,

" he said. "I got a call from a New Holland farmer who said he read about my find and asked me to look at what he had stored in his basement for the last 30 years. As it turned out, what he gave me was the remains of a mastodon molar. I was so thrilled that he found this item, and we hope to keep it for scientific study."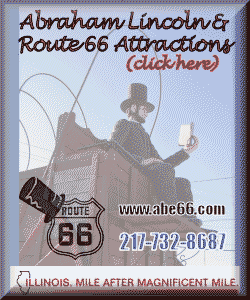 Campbell will also join the presentation to give guidance on how the general public can contribute to science. "Many people think science is a steady process of discovery, when in fact it is by leaps and bounds when the public too gets involved," he said. According to Campbell, the museum will look at locally discovered rock and mineral items and large mammal fossils as well as a variety of other unknown objects brought in by the public. "Private collections aren't normally available for scientists to look at," he said.
If you would like more information on the artifact event, contact the Dickson Mounds Museum at 309-547-3189 or visit http://www.museum.state.il.us/ismsites/dickson/.
(Text from file received from Lincoln College)