Lincoln philanthropist Larry J. Van Bibber donates $15,000 to help 'Save the Mill' on Route 66

Send a link to a friend
[June 25, 2007] Larry Van Bibber made a name for himself last year in Lincoln and throughout the Route 66 community when he donated $12,000 to move the world's largest covered wagon from Divernon to Lincoln. In April, Van Bibber received the Friend of Tourism Award from the Abraham Lincoln Tourism Bureau of Logan County for bringing the covered wagon to Lincoln. Now he has done it again and immortalized himself in Route 66 history with his generous donation of $15,000 for the renovation of The Mill on Old Route 66 in Lincoln.
Van Bibber became interested in the project while participating in the Route 66 Garage Sale of Logan County and while observing the partial demolition of the former restaurant last week by Parkland Environmental Group. Efforts to save The Mill have garnered local, national and international attention.

Last week marked the official date of the partial demolition of two of the less significant sections of the structure that had to be removed because of safety concerns and as part of making the building a more attractive photo opportunity for Route 66 tourists. The part of The Mill that is being saved includes the original 1929 section, shaped like a Dutch windmill, and the post-World War II addition to the building, which was originally an army barracks in Camp Ellis in Havana. Due to their interest in this historic Route 66 preservation project, the Parkland Environmental Group was very generous in the bid that they proposed for the necessary abatement and demolition at the structure.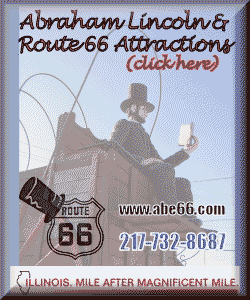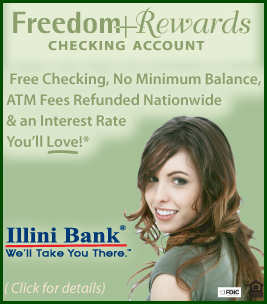 Geoff Ladd of both the Route 66 Heritage Foundation of Logan County and the Abraham Lincoln Tourism Bureau of Logan County was incredibly grateful once again to Van Bibber. "With this donation, what he has done for tourism and his donations to The Oasis senior center in Lincoln, Larry has truly defined what philanthropy is all about," said Ladd. "I'm hoping that other individuals and businesses will take note of this incredible act of giving. This contribution will take this project a lot further a lot quicker than we had anticipated, but down the road as we convert it to a photo attraction, to an actual museum, more funds will be needed. I am truly grateful to Larry for all he has done."
The Route 66 Heritage Foundation of Logan County also recently received a $500 donation from Ernie Edwards of the Pig Hip Restaurant and Museum as a result of the very successful celebration of his 90th birthday and the Broadwell Sesquicentennial, and also recently received a $12,000 loan from Regions Bank in Lincoln to help with the project.
Additional donations are still greatly needed to see this project through to its completion. For further information, please call 217-732-8687 or visit www.abe66.com.
[Text from news release received from Abraham Lincoln Tourism Bureau of Logan County]