Oasis update

Send a link to a friend
[June 27, 2007] The Oasis, Logan County's senior citizen center, 501 Pulaski St. in Lincoln, is open weekdays, except holidays, from 9 a.m. to 4 p.m. The center also is open on Friday and Sunday nights for table games. Dominic Dalpoas is the executive director. Activities are open to all Logan County senior citizens, regardless of membership. Friends of The Oasis members receive a bimonthly newsletter by mail and reduced rates for classes and trips. For more information, call 732-6132 or 732-5844.
St. Clara's sponsors bingo
St. Clara's Manor will sponsor bingo at The Oasis on Thursday. The games will begin at 1 p.m. Come join the fun and win some prizes.
Blood pressure check
The Oasis offers free blood pressure checks every Friday between 10 and 11:30 a.m. No appointment necessary.
Friday night cards, cake and ice cream
The Oasis card group will have cake and ice cream as part of their regular Friday night games. The group is looking for euchre players so they can add another card game for seniors to choose.
Low-vision support group
The low-vision support group will meet in the main activity area of the senior center on Monday. The meeting will begin at 1 p.m.
Meeters and greeters
Meeters and Greeters will meet at 2 p.m. Monday to prepare for their visits to individuals who cannot get out of their home as much as they would like. The group is looking for greeters who are willing to donate a little of their time to visit with individuals.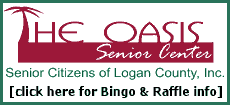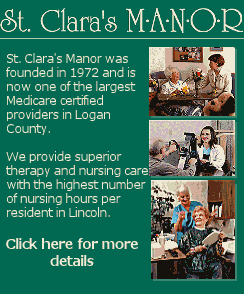 Oasis Belles to meet over lunch
The Oasis Red Hat group will meet over lunch on Tuesday. The discussion will begin at 11 a.m. and continue through the lunch period. The Oasis Belles will be planning a trip to a Bloomington tearoom.
Tuesday lunch
The 11:30 a.m. lunch for Tuesday features chef special, dessert and a drink for $3.75, or $3.25 if you stay to play cards. Deadline is noon Monday.
Monkey business discount
On Tuesday, bingo at the Lincoln Recreational Center will include a special on handheld computers. Each player who purchases an extra paper (more than one) card of the game called "Monkey Business" will receive a discount on a computer of their choice. Join us for the details. Doors open at 5:30 and games start at 6:50 p.m.
Winners for the week announced
Ann Hedrick and Larry Van Bibber were the weekday pinochle card game winners. Joyce Voyles and Harold Goodman were the weekend winners for pinochle. The winners for five-in-one were Linda Hughes and Bernie DePuy. The rummy winner was Ruth Barry. Congratulations.
[Oasis news release]