Illinois State Geological Survey open house features 35 exhibits, demonstrations and hands-on activities
Send a link to a friend
[March 03, 2007] CHAMPAIGN -- The general public is invited to an open house to learn more about how the Illinois State Geological Survey serves the citizens of Illinois. The event will be March 9 from 9 a.m. to 3 p.m. and March 10 from 10 a.m. to 2 p.m. at the Natural Resources Building, 615 E. Peabody Drive in Champaign.
The open house will feature 35 exhibits, demonstrations and hands-on activities of interest to the general public, students and teachers of all levels, geology buffs, and those interested in geology-related careers.

Over 80 Illinois State Geological Survey staff members and approximately 1,500 visitors made the 2006 open house a success. To glimpse last year's fun and find information about the 2007 exhibits, visit http://www.isgs.uiuc.edu.

Among the most popular exhibits is "Rocks, Minerals, Fossils and Dinosaurs," which contains a glittering array of geological specimens. Collectors are invited to bring their favorite specimens for expert identification help. The geologists can also answer questions such as why dinosaurs haven't been found in Illinois. Kids can uncover and keep the fossil they find at the "Kids' Fossil Dig," and visitors of all ages will enjoy watching the state's geologic history come to life in the fascinating "Build Illinois" demonstration.
"The Many Wonders of Carbon Dioxide" is a good place to learn about this major greenhouse gas and the role of ISGS research in carbon sequestration and clean-coal technologies. The "Groundwater Model" demonstration makes it easy to see how groundwater moves through the subsurface, how contaminants affect groundwater quality and how this information is used to keep drinking water safe. Other exhibits will allow participants to map potential sites of environmental concern, get up close to a drill rig and participate in many other activities.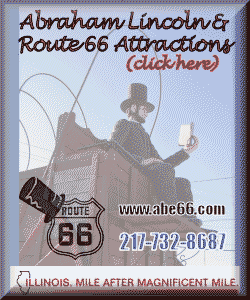 The Illinois State Geological Survey is a public scientific agency dedicated to providing the citizens and decision-makers of Illinois with objective geological information. Most recently, the ISGS provided the technical background that was critical in the award of two potential FutureGen sites to Illinois. Other ISGS research activities include geologic mapping, energy, mineral resources, carbon sequestration, environmental engineering, environmental site assessment, water resources, geochemistry, wetlands restoration and hazards response.
For a list and description of all the exhibits, plus directions and parking information, go to http://www.isgs.uiuc.edu/isgshome/
openhouse/openhouse-2007.htm.
There is no admission fee. Reservations are not required, but advance notice for large groups is appreciated and will make your visit easier and more fun.
For more information, please contact LaDonna Pearl at 217-333-0294 or e-mail openhouse@isgs.uiuc.edu.
[Text from news release received from the Illinois State Geological Survey]