Sen. Bomke: Budget finally gives Rochester schools money for completed construction

Send a link to a friend
[March 08, 2007] SPRINGFIELD -- State Senator Larry Bomke (R-Springfield) listened to Governor Blagojevich's budget address Wednesday and said that he is glad to see that Rochester will finally see the money promised to its schools over a year ago.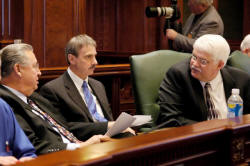 State Sen. Larry Bomke, R-Springfield, talks with Rep. Raymond Poe (left) and Rep. Rich Brauer (right) about the governor's budget address. The three legislators attended the address Wednesday in the Illinois House chambers.
Bomke says, "Rochester has been waiting a long time for this funding that the Governor pledged at a school assembly last year. It's just unfortunate that we have had to wait this long to see the Governor fulfill his promise."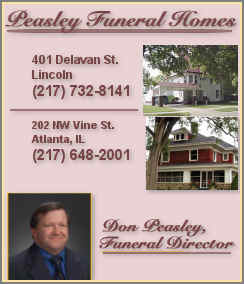 "The Governor is making many promises with this budget. Of course, some ideas are better than others. The Governor's healthcare plan, Illinois Covered, is good in theory. Who doesn't want everyone to be insured?" said Bomke. Illinois Covered will be paid for with the new gross receipts tax.
The gross receipts tax will be levied on all revenues of a business with no regard for whether the business is actually profitable. It is basically a sales tax embedded at every level of commerce in this state. This tax is a huge added cost of business that will be woven throughout the fabric of our economy and will ultimately be paid by citizens through inflated prices.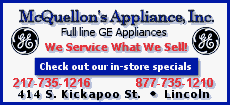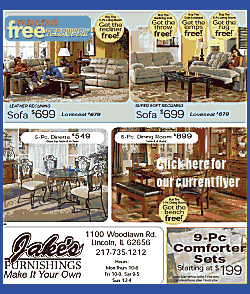 "This $6 billion tax increase is larger than the previous six largest tax increases combined," said Bomke. "Some of this new revenue should be used to give relief to working families, and help with the high cost of property taxes."
The Governor didn't mention property tax relief in his address but he did talk about the need to increase education funding. Senator Bomke is glad to see that Governor Blagojevich is investing in education with the per-pupil foundation level increasing by $686, from $5,334 to $6,020. This is a 13 percent increase in the foundation level. This investment will total $10 billion in education funding over the next four years.
[Text copied from news release sent on behalf of Sen. Larry Bomke and received from Illinois Senate Republican staff]