End of the line
By Jeff Mayfield

Send a link to a friend
[March 19, 2007] Sometimes in life things don't go the way you wished they would. Friday evening was just such a night for Illini Nation. Holding a 10-point lead with about four minutes to play most times means planning for your next opponent. Maybe that's what the Illini were doing instead of finishing the game.
The harsh truth is that Illinois failed in this area many times throughout the season. I had hoped they were cured after beating Indiana in overtime at the Big Ten tourney in Chicago. I guess they weren't. The final loss of any season is always painful, but this one was exceedingly painful. On the other hand, maybe it just put this misguided season out of its misery.

#41 - Warren Carter
The hardest thing for me will be to say goodbye to the seniors. Marcus Arnold, who transferred from ISU, always worked hard and gave outstanding effort. Rich McBride, the sharpshooter from Springfield Lanphier, became a lock-down defender -- something that I would have bet heavily against. And we'll probably miss Warren Carter most of all. He became a consistent scoring threat, and for an offensively challenged club like the 2006-07 Illini were, he helped make our season.
I'm not one of the pundits who subscribes to getting rid of head coach Bruce Weber and Ron Guenther, the athletic director. You'll have to look elsewhere if you want to find that kind of ridiculous notion. On the contrary, I feel we have two of the best in the business in their respective positions.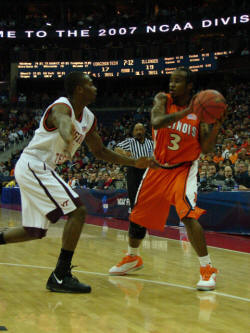 #3 - Chester Frazier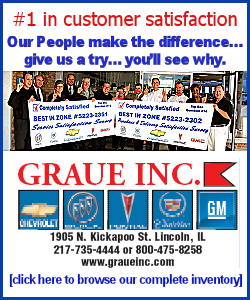 Things in life tend to move in cycles, and certainly we're not in one of the best cycles we've ever been in. That's why my support of them, the Chief and the Illini is so strong. I believe in them. Lots of people have been hopping off the Illinois bandwagon for the last two seasons like rats off the cruise ships. That's OK with me. Good luck with that.
I'm probably way too optimistic. I'm probably not seeing the silver lining very clearly. I'm probably too idealistic. But I just see great days on the Illini horizon. In the movie account of the Apollo 13 crisis, one NASA official proclaims that the flight will end as the biggest disaster in NASA history. Another NASA leader immediately denounces him and proclaims that the event will be NASA's finest hour.
Things may look a little bleak right now, but a bright new day is just around the corner. I'm sprinting ahead to meet you there.