The fair will be March 31 from 9 a.m. to 2 p.m. at the Lincoln Park District's Indoor Sports Center. Admission is free. Everyone is invited to attend.

More than 60 organizations will have displays or offer health screenings. Guests at the fair will learn new and innovative approaches to wellness.

Health screenings are always popular at the fair, and more than a dozen will be offered this year. Screenings will be available for blood pressure, blood sugar and diabetes, body mass index, bone density, child developmental, cholesterol, hearing, hemoglobin, pulse oximetry, and child vision. All screenings except the hemoglobin ($1) and the cholesterol ($5) will be free of charge.

Cooking demos at 10 a.m. and 1 p.m. by ALMH Dietary will feature healthy and easy dishes to snack on while watching the big game.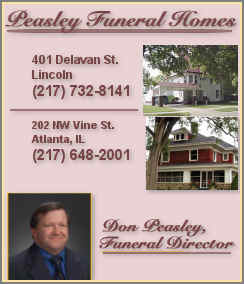 The American Red Cross will conduct a blood bank from 9 a.m. to 2 p.m. in conjunction with the health fair. Your gift of blood can help save someone's life, so please make plans to give at the Red Cross blood bank. First-time donors are welcome. No experience needed!
Coming attractions
Making a return visit is the Child Identification Program. The Lincoln Police Department is bringing this popular program to the fair. Parents will have the opportunity to have children fingerprinted at no charge. Pictures will also be taken. Both forms of identification have been very beneficial to the police in locating missing children. Parents are urged to take advantage of the program, starting at 9 a.m.
Saturday's entertainment
At 9:30 a.m. Dan Dugan will demonstrate yoshukai karate with his spirited group of students. Dugan has been teaching this ancient art throughout central Illinois for over 27 years.
At 10:30 a.m. Deputy Robert Spickard will exhibit the skills of the Logan County drug dog. He will demonstrate how these dogs are able to successfully conduct their searches. Spickard will be available for questions as well.
Also at 10:30 a.m. the granny basketball warm-ups will begin in preparation for the big game at 11 a.m. The Iowa Phantoms will take on Abe's Babes, a group of local Lincoln women, in an old-school, 1920s-style basketball game, where there is no running, no jumping and no flesh!
At noon Lincoln Tae Kwon Do will take center stage. Led by Scott Brown, this high-energy performance is always a popular segment and sure to entertain all ages.
Concluding the day's entertainment at 1 p.m. will be Ronald McDonald leading a "Get Moving" program for all ages.