Fiery three-vehicle collision near Emden sends two to hospitals

Send a link to a friend
[May 21, 2007] EMDEN -- One person suffered third-degree burns and another had life-threatening injuries after three vehicles collided early Saturday morning. The collisions occurred about 3.5 miles west of Interstate 155 on U.S. Route 136 at 5:30 a.m.
Gary A. Davis, 59, of Lewistown was westbound driving a blue 1993 Chevrolet 1500 pickup truck.

Two vehicles, each pulling trailers with llamas, were eastbound on Route 136. The first was a brown 2006 Ford Expedition with a silver 2003 Featherlite trailer driven by Judy D. Hofreiter, 58, Havana.

Following Hofreiter was Chrystal R. Chaddock, 53, of Canton driving a black and grey Dodge Ram pickup with a grey 1993 Sommerset trailer.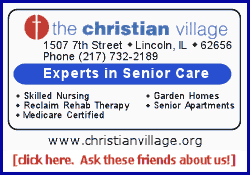 Davis' vehicle crossed over the centerline and collided with Hofreiter.
In an attempt to avoid the collision, Chaddock swerved into the south ditch area but struck the right rear portion of Hofreiter's trailer.
Hofreiter's vehicle became fully engulfed in fire.

Hofreiter had non-life-threatening injuries and was transported to St. Francis Medical Center in Peoria by the Logan County Paramedic Association. Hofreiter then was flown to Loyola Medical Center in Maywood for treatment of third-degree burns.
Davis had life-threatening injuries and was flown to St. Francis Medical Center in Peoria by St. Francis Life Flight.
One llama was injured and received treatment at the scene.
Additional agencies assisting were Logan County Sheriff's Department, Mason County Sheriff's Department, Emden Fire Department and the Illinois Department of Transportation.
The crash remains under investigation by the Illinois State Police.
[Illinois State Police; LDN]