May 26 marks 90th anniversary of third-deadliest tornado on record
Twister line trekked 293 miles across Illinois, killed 101, injured 638 and decimated property and towns

Send a link to a friend
[May 26, 2007] May 26, 1917, 3:30 p.m., Mattoon: "...the approaching storm appeared as a low, boiling mass of clouds, one part a little to the north and the other a little to the south. The parts seemed to roll toward one another, coming together and downward like the meshing of a pair of cog-wheels. " -- eyewitness accounts from the meteorologist's survey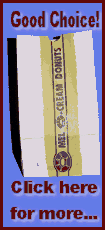 The tornado that descended on Charleston and Mattoon that day was later determined to be an F4 on the Fujita scale.

The National Weather Service in Lincoln has just released research compiled and written by staff member Chris Geelhart. The article includes forecasts of the storm, weather details as the storm passed and pictures of the aftermath.

Interesting in the review was that people who observed the tornado as it crossed Illinois from near the Mississippi River up to when it reached Mattoon saw a classic twister shape with a tail. The place where changed form is where it wreaked its greatest destruction.

The article includes many details of interest, including news reports and oddities such as, "Many birds completely lost their feathers."

See "The Mattoon/Charleston Tornado of May 26, 1917."