Three bids were received on the 75-foot quint fire apparatus:
Fire Apparatus and Supply Team of Lincoln bid $578,750.

KME Fire Apparatus of Pennsylvania bid $580,255.

Truck Centers of Troy bid $598,574.
The department received a low-interest loan through the state for the purchase.
It was with expressed gratitude to be doing business locally that the aldermen voted to accept the low bid submitted by Fire Apparatus and Supply Team of Lincoln, with an added $1,200 option for added warranty on the engine. The business, owned by Steve Garner, is newly relocated in Lincoln since last year.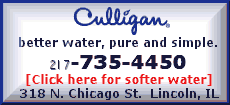 Disclosure was made that the business does employ one of the department's firefighters, Rick O'Hara, but that his employment had no factor in the city choosing this bid.
A committee from the fire department worked nearly a year at developing the specs of the new equipment. That committee was composed of Assistant Chief Mark Miller, Lt. Ben Roland, fire inspector Chris Harding, and firefighters James Reed and Todd Keeler.
Garner also said that getting or not getting the bid would not have influenced O'Hara's employment with his business. He and his wife worked on this bid.
The special-order quint fire apparatus will take nearly a year to build. Adjustments and changes to the order can be made as the base is made in the first month or two, fire Chief James Davis said.
Davis was particularly happy to see the truck go on order as it completes the top two goals that he had set when he accepted the position as chief; first was new air packs and second, a new truck.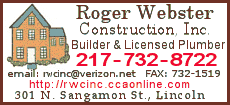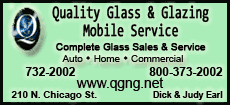 Sewers and stuff (water-related)
The council agreed to move forward in examining the main sewer line along Campus View Drive. Lincoln Christian College made a request to the city to consider taking over responsibility for the line. The first step was agreed to determine its condition by scoping it.
The boiler at the wastewater treatment plant would not fire up for the season when manager Dave Kitzmiller tried it on Oct. 22. The problem was a cracked firebox that needed replacing. Proposals were sought and two came in. Kitzmiller said that he choose the higher proposal at $6,150 because of added information the company supplied in the proposal.
Plans to replace the south plant lift station have come back sooner than anticipated. Engineering design work done by Donohue and Associates has been approved by the EPA quicker than anticipated, Kitzmiller said. The project was put into this year's fiscal year budget, which ends on April 30, 2008. The council granted him permission to go out for bids.
A bad batch of valve balls has hindered a project at the plant to change over from chlorine gas to liquid. Kitzmiller said he devised a temporary setup that made it possible to meet the changeover date. New valve balls are on order.
[By JAN YOUNGQUIST]