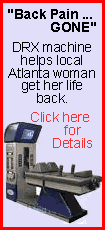 Scheduled for Oct. 27, the Harvest of Talents is billed as a daylong family event. Traditionally the doors open at 7 a.m., affording those in the working community time to have breakfast and shop before reporting to Saturday jobs.

Breakfast fare consists of the traditional homemade caramel pecan and cinnamon rolls, fresh from the oven. For luncheon, H.O.T. vegetable soup, sandwiches and homemade pies will be served between 10 a.m. and 1 p.m. Snacks will be available outside, including caramel apple sundaes and deep-fried potatoes. Lincolnberry Prairie Cafe will offer flavored coffee, tea and hot apple cider, accompanied by a variety of snacks.

A number of popular specialty shops will be open from 7. a.m. to 1 p.m., including Quilts n' Cross Stitch, Cottage Collectables, Yesteryear's Kitchen, Critters in my Garden, Christmas Nook, Gifts From Around the World, Bracelets and Accessories, Ye Old Sweet Shoppe, Babeland, and Floral Fantasy.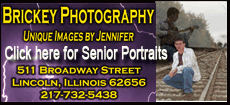 A photo-op area will be a first-time offering, affording attendees the opportunity to have photos taken in a harvest setting.
Between 9 and 11 a.m. special activities will be available for children in kindergarten through fourth grade and "Mission Moments" for fifth- and sixth-graders.
A silent auction conducted throughout the morning hours will offer a variety of quality handmade items to be claimed by the highest bidders.
In keeping with a Harvest of Talents tradition, 50-pound bags of South Dakota potatoes will be offered for sale at $10. Potatoes may be purchased for personal use or donated to one of several area missions.
The climax of the Harvest of Talents is the 2 p.m. auction, conducted by auctioneer Mike Maske, which offers several dozen handmade, one-of-a kind items, including quilts made by local and Indonesian quilters, furniture, stitchery of various kinds, photography, and select items from various mission fields.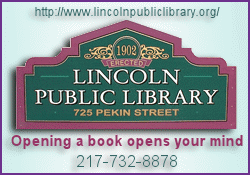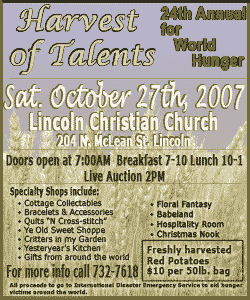 Carolyn Neal, who chairs the event, said that the Harvest of Talents "is a wonderful place to come with your shopping list in hand to purchase quality gifts for birthdays and the Christmas season." She said that shoppers "have the unique opportunity to purchase gifts and at the same time provide food for hunger victims." She stressed that "every penny" raised at the Harvest of Talents is earmarked for hunger needs worldwide.
The Harvest of Talents site is handicapped-accessible, offers lots of free parking, and meal carryout will be available. A Hospitality Room offers guests a respite from shopping, and there will also be a monitored check room where purchases, strollers and various articles may be checked while shopping and dining.
Aluminum cans and printer ink cartridges will be accepted for recycling on Harvest Day.
Harvest attendees are invited to bring a favorite recipe to be included in an anniversary cookbook to be published in 2008 in celebration of the event's 25th anniversary.
Hunger victims in 18 countries have benefited from the $1,184,928.11 raised by the Harvest of Talents in its previous 23 years. All funds received from the Harvest of Talents are channeled through International Disaster Emergency Service, a Christian organization based in Kempton, Ind., to various mission fields. In previous years, the Harvest of Talents has funded hunger programs in villages and orphanages, in areas of the world stricken by floods, fires, hurricanes, drought and famine.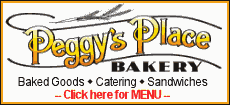 Proceeds from a spring high tea, garden walk, golf play day and musical offering will be included in the 2007 proceeds, as will proceeds from a new event, a teddy bear tea, scheduled for Dec.1.
A check representing the total gathered through Harvest Day will be presented to Rick Jett, general manager of International Disaster Emergency Service, as part of a special celebration service on Sunday morning at Lincoln Christian Church.
[Text from Harvest of Talents news release]