These youngsters are members of various 4-H clubs throughout Logan County. The Logan County Fair is their chance to see how bright their various projects can shine, and also to see how well their friends have done throughout the summer.

Many people on the outside of this animal circuit are unaware of the hard labor and dedication the younger kids and seasoned youth put forth each summer to reach the point of showtime at the fair.

For Katrina Schreiner and her shorthorn steer, winning the blue ribbon is what makes it all worthwhile. Katrina is a 16-year-old LCHS student and the daughter of Steve and Pam Schreiner. Katrina is one of the 4-Hers whose main focus at the Logan County Fair is to prove her showmanship. But just two days of showing means there have been months of preparing.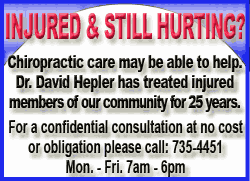 Every day, on top of the regular chores of making sure her bovine is fed, watered and in good health, Katrina also has to wash and walk her blue-ribbon steer, named Teddy. "I named him Teddy because when I first got him his hair was so fluffy and soft it was like a teddy bear," says Katrina.
What many people don't realize is the attachment to their show animals that these young people form. Having to work every day with their animal typically means having to halter and walk them every day to break their lead. It also gives them the lean muscle the judges are looking for in the show barn. Washing their animals every day just to keep them cool during the grueling hot summer afternoons is all part of what 4-Hers must do to keep their animals healthy.
When a young person like Katrina is constantly busy performing these tasks with an animal, a special bond is formed, and several of the animals that are shown so proudly in that show barn have been given special names by their loving caretakers.
When asked what her favorite part of the fair is, Katrina states with a glowing smile: "meeting new people and hanging out with other kids who are here for the same thing, with the same interests, working as hard as you."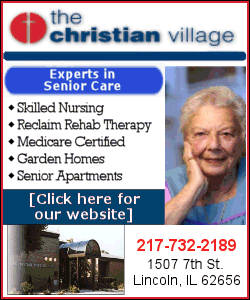 As for Katrina and Teddy, the daily activities all year long have paid off for the tandem. Teddy has won first in his lightweight shorthorn steer class and Katrina gets to walk away with the blue ribbon.
For the Schreiner family, Katrina is not the only one who gets to proudly claim first prize. Younger brother Garrett, 10 years old, walked away from his sheep show ring with first place in the lightweight wether class. After long hot days of walking his wether lambs throughout the summer and preparing them for show, he too names his respected animals: Hewey and Dewey. Together, Hewey and Dewey won third place for the "pair of wethers" class. Garrett proudly says that his favorite part of all of this is "doing chores and spending time with the sheep."
For other families, these competitions are their entire summer. They begin the hard preparation in the spring months because the Logan County Fair is not their only stop. Many farm families start hitting the fair circuit weeks before they reach Lincoln.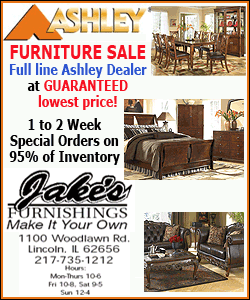 The Coers family falls into this category. The children of John and Annie Coers of New Holland help make up a third generation of livestock showmen in their family.
Two more Coers cousins are in this next generation in the area. They are Adam and Taylor, children of Jim and Erin Coers.
Throughout these past decades the Coers family has shown just about everything when it comes to livestock. Now this family is deeply rooted in the sheep business and is sweeping the classes with several championships.
One proud win for the family went to Taylor Coers, who is also the reigning Cheviot queen for Illinois. Cheviot is one of the many breeds of sheep that are shown here. Taylor has showed a reserve grand champion yearling ewe and received a senior showmanship award.
The Coers family averages about five county fairs a year as well as the Illinois State Fair. Among several wins and awards is a reserve grand champion for the crossbred wether class, won by Chelsea Coers, daughter of John and Annie. When asked what they love most about this fair, both Chelsea and Taylor unanimously say, "hanging out with our friends and meeting new ones."
Once done here, it's off to another showing adventure -- for some kids, even as far as Louisville, Ky.
John Fulton, Logan County Extension director, has been watching these kids reap the awards from their labor for 26 years. In addition to the 170-plus 4-H kids showing livestock this year, there are also around 70 4-H kids showing various other items in the exhibition buildings. Many are showing in all areas from paintings and drawings to horticulture, as well as livestock. According to Fulton, several families plan their vacation at this time. "It's a family tradition for so many," states Fulton. "This is what they do every year, working together to prepare and just being able to bond together during this time."
Each year you will find plenty of 4-H kids working through the heat out in the livestock barns. It can sound like nothing but hot days, sweaty work and time-consuming chores. But, ask any of them if it is all worth it and you will receive the same enthusiastic answer; when it comes down to that proud moment of parading your animal into the ring, they will say, "Yes! Every single bit of it."
[By JANELL WOOLARD]