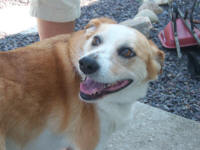 This good looking dog's name is Koda and he is looking for a home. He is a four year old Beagle mix. Koda loves kids and gets along well with other dogs and cats. Koda's foster mom and everyone who meets him say he is a sweetheart! Koda has been spayed, is up to date on shots, and has been micro chipped

The Humane Society is having an Adopt-a-Thon this Saturday, August 9th, at Big R in the Heritage Plaza. They will be there from 9:30-10:30 a.m. The society will have all of their adoptable animals there including Koda. Unless you grab the chance to adopt him right now. For more information on Koda or any of his friends you can call the Humane Society of Logan County at 737-4042.
---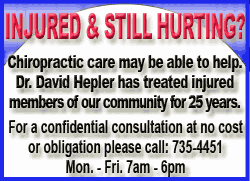 ---

Zion opens their doors
Zion Lutheran School is hosting an open house for families of school-age children Thursday from 6:00-8:00 pm. The school has openings in all grade levels from pre-school to 8th grade. Zion is open to all members of the community, regardless of background. Tuition assistance is available for qualifying families. For more information, contact Steve Schumacher, principal, at 732-3977 or visit the school's website at www.zlslinc.org.
---

More good food around the corner
St. Clara's Manor is having its 6th annual Homecoming, Cookout and Car Show on Friday, August 8th. The hours are from 11:00 a.m. till 2:00 p.m. and the public is invited to attend.
---

Find great employees
Are you looking for one or more high quality college-age students to work in your business or organization? Lincoln Christian College has more students interested in jobs than they have on-campus opportunities available. If you would like to consider an LCC student for a position, please contact Ed Plumier, LCC Director of Human Resources, at 732-3168, ext. 2238, or eplumier@lccs.edu. Ed will be happy to work with you and pre-screen candidates to meet your specific needs.
---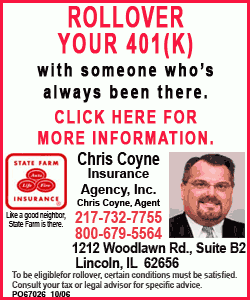 Drivers for Hope Mobile wanted
The Healthy Communities Partnership is looking for volunteers, with a Class "C" driver's license, to help drive the HOPE Mobile several times a month. The destination is in Lincoln and only requires a few minutes of your time. Dental services are provided to the community on the days a driver is needed. This is a very important service provided by the HOPE Mobile, and without drivers to get the vehicle to its destination the service cannot be provided. To volunteer or for more information please contact myself or Kristen Lessen, 217/732-5066 or lessen.kristin@mhsil.com.
---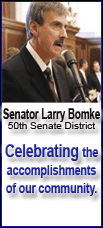 Get a kick out of this fall
The YMCA is accepting registrations for Y Youth Fall Soccer leagues until Aug. 25. Forms received after that date will require a $10 fee increase. This program is for all children age 4 through eighth grade. Teams practice once a week, with games played on Saturday mornings at the Lincoln Developmental Center soccer fields. The YMCA junior high travel team will also be starting very soon. The first game is Aug. 15, so if your fifth-grader to eighth-grader would like to take part in this competitive aspect of the Y soccer program, please contact the YMCA soon. Jim Xamis Ford Lincoln Mercury sponsors YMCA soccer.
---
Got a good piece of news, information or something that we can all brag about? If you do, e-mail Mike and let us tell everyone about it. Plus you can win cash. Every submission, whether we use it or not, will get your name in the "Close Up" grab bag. At the end of the month we will draw a name and someone will get $25.00 just for dropping us an e-mail. If you wish, we will be happy to donate your winnings to the organization of your choice. You can contact Mike at mikefak@lincolndailynews.com.
[By MIKE FAK]