"Absolute strength and speed are the two components essential to competitive athletes, but explosive lower body reactive power is what creates superior athletes," says Joe Santillo, certified athletic trainer and performance enhancement specialist at ALMH SportsCare. "That is just what the new VertiMax equipment focuses on."

He and Missy Aper, A.T.C., P.E.S., specialize in this approach to speed training. Both believe it will give area athletes an edge on the competition.

"The minimum age for VertiMax is 13 because most youth have not hit their growth spurt yet," says Santillo.

One local athlete has already witnessed great results from the training system. A three-sport male athlete "improved agility with a 1- to 3-second gain in foot speed as measured by a three-box hop test," says Aper. "He also gained power as measured by a 15.5-inch improvement in his long-jump distance."

According to the manufacturer's information on the Web, VertiMax equipment is in use all over the country by most of the nation's top Division 1 schools and many professional sports teams. Super Bowl champions and top-25 ranked collegiate programs are training with this type of light-load, high-speed work.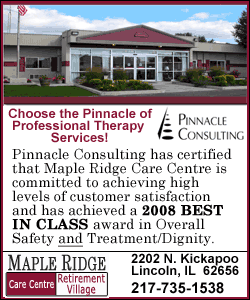 ALMH SportsCare is offering VertiMax training sessions at $125 for 18 sessions.
Call 732-5065 for appointment times. For more information on the VertiMax training system, talk to the performance enhancement specialists at ALMH or visit www.vertimax.com.
ALMH SportsCare is an educational and outreach program that teaches athletes and active kids in the community how to exercise, stretch and treat their bodies in order to enhance performance and prevent injuries. SportsCare athletic training offered through ALMH is available at Lincoln College, Lincoln Community High School, and local elementary and middle schools.
[Text from file received from Abraham Lincoln Memorial Hospital]