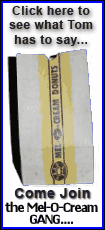 Freddie Mac, which substantially increased its reserves for souring loans, said earnings fell $821 million, or $1.63 per share, compared with a profit of $729 million, or 96 cents per share, in the year-ago period. Analysts surveyed by Thomson Financial had expected a loss of 53 cents a share.
Freddie Mac and sister company Fannie Mae, which hold or back nearly half of all U.S. mortgage debt, have lost billions of dollars due to failed loans over the past year. The federal government has pledged to help both companies with larger lines of credit or stock purchases if necessary.
The problems at both companies have contributed to the volatility on Wall Street in recent months. The market appeared calm early Wednesday, having soared the previous session on a reassuring economic statement from the Federal Reserve and another drop in oil prices. The Dow Jones industrials shot up more than 330 points; some pullback was to be expected after a huge move upward.
Other earnings reports early Wednesday were mixed. Time Warner Inc. said second-quarter earnings fell 26 percent on declining subscriber fees at its AOL online unit and lower ad revenue at the Time publishing business. The results beat analysts' expectations, however.
Wireless carrier Sprint Nextel reported a larger-than-expected second-quarter loss on severance and other costs.
In premarket trading, Dow futures fell 38, or 0.33 percent, to 11,547.
The Standard & Poor's 500 index futures fell 3.50, or 0.27 percent, to 1,279.40, and the Nasdaq 100 index futures rose 4.50, or 0.24 percent, to 1,873.50.