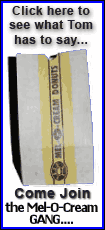 "It's been a big change," Karstens said. "I was pitching well in Triple-A and I felt like I wasn't going to go anywhere."
The 25-year-old Karstens outpitched Randy Johnson, who tossed baseball's most recent perfect game in May 2004. Karstens also got his first two major league hits off the five-time Cy Young Award winner and scored on Doug Mientkiewicz's eighth-inning double.
"After I got that second hit, I was like, 'What's going on?'" Karstens said.
He was in complete command until Young's liner for a clean double down the left-field line. Karstens walked the leadoff batter in the ninth, then made a nice stab of pinch-hitter Tony Clark's comebacker to start a double play.
After a single by Stephen Drew, Mientkiewicz smothered Orlando Hudson's grounder to first before tossing to Karstens for the final out.
Freddy Sanchez homered off Johnson (9-8) in the fourth.
Making his 11th career start and 17th appearance, Karstens struck out four and went to a three-ball count only twice through the first eight innings. He threw 72 of his 113 pitches for strikes.
Just two weeks ago, he was toiling in the minors for the Yankees -- a team now desperate for pitching to help its injury-depleted rotation.
Karstens' 2007 season ended against Boston on April 28 when his right leg was broken by Julio Lugo's line drive. He was 6-4 with a 3.80 ERA at Triple-A Scranton/Wilkes-Barre this season before the trade.