Diabetes 101 to Educate Care Providers
LINCOLN - Abraham Lincoln Memorial Hospital is offering Diabetes 101 training on Thursday, August 21. This is an educational hands-on seminar for those who care for or work with diabetic youth and adults.
Teachers, classroom aides, coaches, nurses, daycare providers, and others who know someone with diabetes are encouraged to attend.
Instruction begins at 9:00 am and continues until 3:30 pm. The course will be held at Central School on 7th St. in Lincoln.
ALMH Dietitian, Jennifer DiPasquale, RD, LD, is teaching the seminar with contributions from the ALMH nursing staff. Topics include diabetes management routines, meal planning, determining insulin needs, and administration of insulin injections.
ALMH will offer a lunch buffet and a variety of educational resources for participants to take home. The event is free, though a $5 donation is suggested to cover lunch and other expenses.
Registration for the event is required and due by Monday, August 18. Workshop attendees should email diabetes@almh.org or call 732-2161, ext 75199 to reserve their spot.
Diabetes education is just one of the many services offered by ALMH dietitians. These clinicians also assess the nutritional needs of ALMH inpatients, provide education and match a nutritional plan to each patient's individual physical needs and current medications. Outpatient nutritional counseling is also available with physician referral.
---

And the winners are
The Lincoln Public Library is happy to announce the following top two winners in each age category for the Summer Reading Program 2008: "Get in the Game, READ!"
Age 5: Emma Jones and Sadie Bolton

Age 6: Spencer Davis and Grace Lessen

Age 7: Jackie Houpt and Cassie Everson

Age 8: Jennifer Huynh and Julianne Funk

Age 9: Emma Burton and Julia Huynh

Age 10: Sabreena Koeppen and Raelyn Lessen

Age 11: Taylor Sparrow and Logan Thompson

Age 12: Tammy Huynh and Kelsey Shanle
Teen Grand Prize Winners:
Megan Lahr

Hallie Edwards

Austin Schaub
---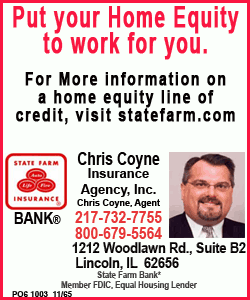 Learn more about Honest Abe
The Logan County Genealogical and Historical Society meeting August 18, 2008
is at 6:30 p.m. at the headquarters at 114 N. Chicago St. in Lincoln, Illinois
The speaker will be James Maltby, who will talk about "Charles Maltby, Personal Friend of A. Lincoln." The public is welcome.
---

Don't forget free coupons for Farmer's Market
Persons 60 years of age and older who meet income guidelines are eligible for free coupons to be used to purchase $21.00 worth of fresh fruits and vegetables at the Latham Park Farmers' Market in Lincoln. Coupon booklets may be obtained at the Oasis Senior Center, 501 Pulaski Street, Lincoln. Coupons are available while supplies last, and are limited to one booklet per person per season. Participants are required to complete an application to receive the coupons.
Maximum annual income is $19,240 for a single person household and $25,900 for a household of two. $6600 is added for each additional household member. This popular program is made available by the United States Department of Agriculture and the Illinois Department of Human Services. For more information, call the Area Agency at 787-9234 or 1-800-252-2918.
Area Agency on Aging for Lincolnland is a nonprofit planning and administrative agency designated by the Illinois Department on Aging to develop and coordinate programs and support services for persons 60 years and older and family caregivers to help them live more independent, active and dignified lives.
---
Got a good piece of news, information or something that we can all brag about? If you do, e-mail Mike and let us tell everyone about it. Plus you can win cash. Every submission, whether we use it or not, will get your name in the "Close Up" grab bag. At the end of the month we will draw a name and someone will get $25.00 just for dropping us an e-mail. If you wish, we will be happy to donate your winnings to the organization of your choice. You can contact Mike at mikefak@lincolndailynews.com.
[By MIKE FAK]