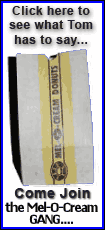 "It was spectacular. Really unbelievable," she said of the opening ceremony.
Meanwhile, dozens of curious Chinese and foreign tourists who entered the Forbidden City minutes after her arrival were motioned out of her way by Chinese security officers.
Saturday was meant to be a quiet day for the Bush family, with President Bush scheduled to watch the games. The Forbidden City visit, the first lady's second trip to the sprawling former palace, was the only publicly announced event on Mrs. Bush's daily schedule.
"We've had a very fun family visit," Mrs. Bush said, as she posed for photos with her daughter Barbara.
But what is believed to be the Bushes' final official Asian visit has been far from quiet.
The president criticized China's human rights record in a speech in Thailand earlier this week. The Chinese government responded angrily, but there seemed to be no ripples as the Bushes attended a state luncheon for world leaders with Chinese President Hu Jintao on Friday. The two men sat side by side.
On Saturday, Bush found himself dealing with the building crisis between Russia and Georgia, two nations at the brink of an all-out war.
The Olympics' opening ceremony also went off without incident, though Chinese people watching the ceremony at one public screening event in Beijing booed briefly when the camera panned to the U.S. president.