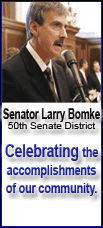 The study by the Government Accountability Office, expected to be released Tuesday, said about 68 percent of foreign companies doing business in the U.S. avoided corporate taxes over the same period.
Collectively, the companies reported trillions of dollars in sales, according to GAO's estimate.
"It's shameful that so many corporations make big profits and pay nothing to support our country," said Sen. Byron Dorgan, D-N.D., who asked for the GAO study with Sen. Carl Levin, D-Mich.
An outside tax expert, Chris Edwards of the libertarian Cato Institute in Washington, said increasing numbers of limited liability corporations and so-called "S" corporations pay taxes under individual tax codes.
"Half of all business income in the United States now ends up going through the individual tax code," Edwards said.
The GAO study did not investigate why corporations weren't paying federal income taxes or corporate taxes and it did not identify any corporations by name. It said companies may escape paying such taxes due to operating losses or because of tax credits.
More than 38,000 foreign corporations had no tax liability in 2005 and 1.2 million U.S. companies paid no income tax, the GAO said. Combined, the companies had $2.5 trillion in sales. About 25 percent of the U.S. corporations not paying corporate taxes were considered large corporations, meaning they had at least $250 million in assets or $50 million in receipts.