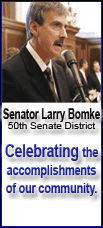 On this past beautiful summer weekend I drove around town. There were several organizations trying to do something to make a little money for their club and I chatted with a few. One said they were doing okay, another said they were disappointed in the amount of activity they were getting to raise funds for their cause.

We ask all of you out there to allow us to help you. The LDN is delighted to include your worthwhile activities in our community calendar and you can do it yourself. Just click on the community calendar link at the top of the front page and then click submit entry. We recommend you send in your information a full month before the event to ensure that everyone gets a chance to see it and note it on their calendars. As an added bonus, Close Up will make a note of it on this page about a week before it happens to make sure everyone knows what you are doing. We do this as a free service. All we need is for you to tell us what's happening with your organization. We in turn will make sure everyone else knows.
---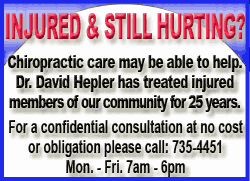 The Ultimate Recycling Project
Christian Child Care Inc., a Not-For-Profit center in Lincoln, Illinois, recently held a garage/bake sale July 26th. They were thrilled to have earned over $500.00 to help support the center. For a few months they were afraid the center would close due to financial burdens, but in three months time they are stronger than ever and are building a sound financial future. But the story is not in the money made; it is about all the people that made that event success possible and how it is the ultimate recycling project. When director Coleen Moore began planning for the garage sale, collections slowly began to trickle in. Mrs. Moore attends Douglas Avenue Methodist Church in Springfield and knew how successful their sale is for the church each year. On a whim, she contacted their garage sale committee at the church and asked for any leftover items. The church generously gave three vanloads full of items to resell.
The Rotary Club in Lincoln was also having a sale and when Mrs. Moore contacted them, they were also delighted to help the center with their leftover treasures.
Again, the Christian Child Care van was filled three more times. In all they filled seven rooms of the center with books, housewares, clothes, toys and knickknacks.
Now that the garage sale is over, Christian Child Care donated all the children's clothes to The Kids Closet of Lincoln. This is a mission that gives away clothes to children in need and is open the first Monday of each month at 104 South Chicago Street in Lincoln.
Christian Child Care has also donated to the Good Samaritan Ministries, 1200 North Postville Dr. in Lincoln. These recycled items will be used in the office of their new facility.
---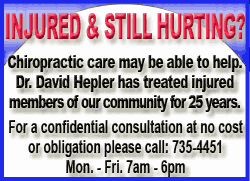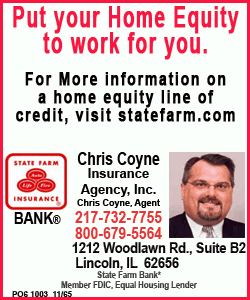 Christian Child Care is putting all the leftover items at Freecycle.com. This is a group in Logan County and is part of a worldwide organization. If someone has items they want to get rid of but do not want it to go to waste, FREECYCLE™ offers a way to make a difference and recycle right here in your own community. All items are given away and everything is free. Currently there are 325 members in Logan County and they have a posting board on Yahoo with requested items or items to give away.
Coleen Moore, Director of the Christian Child Care Center, stated," This was so much more than a garage sale; this was the ultimate recycling project. So many organizations and people have benefited from this one-day event. Christian Child Care desires to make this an annual tradition, and looks forward to helping others along the way again."
---

Register for Leadership Academy
The 2008 Logan County Leadership Academy is taking registration until August 22. Leadership Academy provides participants with the knowledge, vision and connections to become successful civic and business leaders. Please consider this opportunity for yourself or your employees; it is a commitment that will not only benefit you, and your business, this commitment also benefits our community. Contact Andi Hake at the Lincoln/ Logan County Chamber of Commerce 735.2385.
---

Hot air before you know it
Art and Balloon Festival wrist bands are on sale NOW. $4.00 for the entire weekend with advance purchase, or $5.00 at the gate. Children 12 and under are only $1.00. You can get your Festival wrist bands at the information station from 9:00 a.m. to 5:00 p.m. Mondays - Fridays. The information station is located at 1555 5th Street in Lincoln.
---

Great new Railer website
If you haven't checked out the new Lincoln Community High School Railer's website you should. The new design is great, shows all the calendars for all Railer sports and lets you know what is happening every day of the week all year long. The site can be accessed on the right-hand side of our local sports page, but as always Close Up will give you a helping hand, so just click here.
---
Got a good piece of news, information or something that we can all brag about? If you do, e-mail Mike and let us tell everyone about it. Plus you can win cash. Every submission, whether we use it or not, will get your name in the "Close Up" grab bag. At the end of the month we will draw a name and someone will get $25.00 just for dropping us an e-mail. If you wish, we will be happy to donate your winnings to the organization of your choice. You can contact Mike at mikefak@lincolndailynews.com.
[By MIKE FAK]