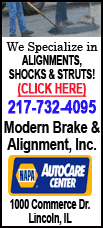 Moline-based Deere & Co. earned $575.2 million, or $1.32 per share, for the three months ended July 31, compared with $537.2 million, or $1.18 per share, during the same period last year.
Revenue increased 17 percent to $7.74 billion from $6.63 billion in the third quarter of 2007.
Analysts surveyed by Thomson Reuters, on average, forecast profit of $1.36 per share on revenue of $7.23 billion. Those estimates often exclude one-time items.