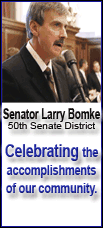 She won in 2 minutes, 8.45 seconds, erasing her mark of 2:08.92 set at the Australian trials in March.
Kirsty Coventry of Zimbabwe took the silver in 2:08.59, also below the previous world record. Natalie Coughlin of the United States won the bronze in 2:10.34, her third medal of the games.
American Katie Hoff picked up her second fourth-place of the morning, finishing behind Coughlin in 2:10.68. She also was just out of the medals in the 200 freestyle.