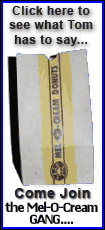 Burress, who has been bothered by a troublesome right ankle, jogged a few pass routes during individual drills and lined up with the starters as they walked through a couple of plays in the evening workout. He did not run any patterns full speed, but he did catch a couple of passes from Eli Manning.
"It's like riding a bicycle -- it's like I never left," Burress said.
Burress did not participate in either 7-on-7 or 11-on-11 drills. Both are run at full speed. He took his helmet off during those drills, put on a visor and watched roughly the final hour of practice.
"I just wanted to go out and gauge how I feel," Burress said. "I felt OK. I just got some new stuff (orthotics) in my shoes and this is the first day I ran in them. My feet are a little sore right now, so it's something I have to get used to. Once I get used to it and get the soreness out, I'll be back out here."
The Giants will take Wednesday off. Burress hopes to practice on Thursday.
Burress led the Giants in receptions last season, including the game-winning catch in the Super Bowl win over New England. He caught a career-high 12 touchdown passes.
Burress' right ankle is the same one that prevented him from practicing almost all of last season, but this injury is different. The team is trying to fix the problem with the orthotics.
Burress had said on Sunday that he would not practice until the ankle was 100 percent. While he was on the field on Tuesday night, it was evident that he could not go full speed.
"I talked with him before practice," Drew Rosenhaus, Burress' agent, said in a telephone interview with The Associated Press. "He felt better and decided to do a few things."