A whole 'Lotto' business at the fair
5th Street Food Mart working the state fair Lotto booth

Send a link to a friend
[August 13, 2008] Cliff McCumber, owner and operator of the 5th Street Food Mart, smiled and summed up his experience so far with one word, "unbelievable."
McCumber, who has owned the Lincoln store for just short of 20 years, was awarded the right to handle this year's Illinois Lottery ticket sales at the state fair, and he hasn't had a chance to relax one minute. "We are so busy that the days just fly by. From opening up at 9:30 a.m. till we close at 10 p.m. it is just nonstop," McCumber said. "We don't even have enough time to look at our watches. But it's a lot of fun. You have to go into something like this with that attitude"

The store staffs the booth with four employees from the food mart, and sometimes Cliff has to ask a food concessionaire nearby if he can run some food over to him and his busy staff. "The concession people are all great. Everyone helps each other out," McCumber noted.
The food mart, which has the highest Lotto sales in Logan County, was awarded the highly prized Illinois Lotto award after he put his name into the hat, offering to run the concession.
McCumber isn't sure if his high Lotto sales or the fact his store has sold Illinois Lottery from the first day had anything to do with his being chosen, but he is enjoying the moment without pondering how his store was picked.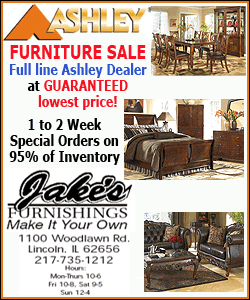 He stated that the throng of visitors to the state fair has been huge, what with the mild temperatures and cool breezes, and that has driven sales even higher than expected.
He offered that sales between the various scratch-off cards and Lotto drawings are about even as best he can tell so far. "People are buying everything we have. And we have three new scratch-off games that are only available at the fair right now that are real popular."
The Lotto booth also has been authorized to pay out higher on-site winnings than normal. "Monday we paid out an $800 winner to one fellow," he said. "Now that was fun."
Amidst a whole "Lotto" work.
[By MIKE FAK]