Sens. Bomke, Brady get their wish
Senate votes down legislative pay raises

Send a link to a friend
[August 13, 2008] SPRINGFIELD -- Illinois Senate members voted 47-0 Tuesday against the hefty pay raise of almost 12 percent for elected officials. The raise would have boosted base salaries by more than $7,000 a year, and more for legislative leaders. Senate President Emil Jones, a strong proponent of a raise for himself, voted "present," along with two other Democratic senators. It was the only action taken on the first day of a two-day special session called by Gov. Rod Blagojevich to address education funding and a $25 billion capital plan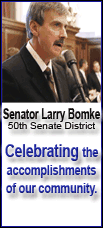 State Sen. Bomke, R-50th District, an opponent of the raise since it was proposed, said, "In a time where Illinois is facing a massive budget crisis, a bump in salary is the last thing that should be taking place, I cannot comprehend how a pay raise can be considered at a time when the state is incapable of paying its existing bills."

State Sen. Brady, R-44th District, who was against such a raise since it was introduced in May, stated, "I do not support the pay raises, I am pleased that the Senate president allowed the Senate to vote on the issue of pay raises for legislators, state officials and judges before the election, instead of just letting the pay raises take effect after the election."

But even after the vote against the raises, state officials will still get a 3.8 percent cost-of-living increase.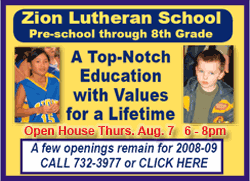 Earlier this year, a special panel called the Compensation Review Board recommended that state officials get small raises as well as money to make up for increases that had been blocked in past years.
Lawmakers would see their basic salaries jump more than $7,000 a year, to nearly $73,000. Legislative leaders' compensation would top $100,000, and the governor's salary would rise $20,000, to $190,000.
Unless lawmakers specifically rejected the board's recommendation, the raises would take effect automatically. The House voted against them in May, but the Senate had taken no action, leaving the issue to be decided after the fall election.
But with Blagojevich calling lawmakers back to Springfield Tuesday for a special session, the Senate faced calls to vote now on whether to take the money.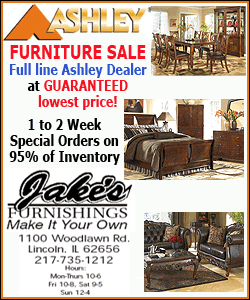 Jones, D-Chicago, who voted "present" on the raise, called opponents "hypocrites" for objecting to the money while accepting a 3.8 percent cost-of-living increase included in this year's budget.
Legislative critics from both parties labeled Tuesday's special session a sham.
The Democratic governor ordered lawmakers to hold a special session on education funding, but he offered no proposals for them to consider or even a suggestion of what he wanted to accomplish.
The House met for about 20 minutes and then adjourned.
"It's a sham. It's a shame. It's a farce," said House Minority Leader Tom Cross, R-Oswego.
But all Democrats, not just Blagojevich, share the blame for paralysis in Springfield, Cross said.
"You have the House, the Senate and the (governor's) mansion, and you've accomplished absolutely nothing," Cross said.
[AP; news releases from Sens. Larry Bomke, Bill Brady]