The 35th annual Lincoln Art Fair will be Aug. 23 and Aug. 24. The show officially runs from 10 a.m. to 4 p.m. on both days in downtown Lincoln's Latham Park.

"Art takes many forms. So there's something for everyone at the Lincoln Art Fair," say event co-chairs Marty Ahrends and Rick Hamm. "From functional pottery and unique jewelry to pieces intended for wall display, visitors can find great gifts or something for their home or office. Prices range from $10 on up to $3,000, with many items under $250."

A panel of art professionals begins judging each artist's presentation on Saturday morning, Aug. 23. They will select the Best of Show, sponsored by Rep. Rich Brauer; Best New Artist, sponsored by Marsha Robinett; the Janet Harris Memorial Award, sponsored by the Thomas M. Harris family; and first, second and third place, which receive cash awards.

Twenty-one new artists will compete for awards and sales this year. Their offerings range from original wire sculpture and leather goods to fine writing instruments crafted from wood and drawings of revered athletic venues.

New at the Lincoln Art Fair:
Photographer Philip Gangler from Normal

Pen-and-ink artist Douglas Fulks from Lake Lotawana, Mo.

Photographer Jill Flinn from Glasglow, Mo.

Glass artist Brock Eddleman from Bloomington

Mixed-media artist Rhonda Cearlock from Vandalia

Kiln-fired glass artist Charlotte Behrends from Mount Carroll

Sterling silver artisan Tricia Hardway from Springfield

Sharon Barnhill, "The Bead Lady," of Chatham

Petersburg's J.W. Bailey Saddlery

Copper sculptors Josie and Sandra Thompson from Gibson City

Photographer Gary Steinke from Lake Barrington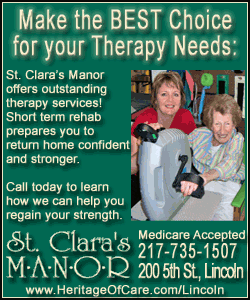 Mixed-media artist Kit Sunderland from Plainfield

Mixed-media artist Mary Beth Shaw from Wildwood, Mo.

Woodcarvers Mike and Nancy Scherer from Sparland

Michael Schael of Rock Eagle Pottery in Cambridge, Wis.

Photographer Dylan Punke of Bloomington

Acrylic artist Lou Ann Minton from San Jose

Mixed-media 3-D artisan Bill Merritt from Camdenton, Mo.

Glass bead jeweler Audra Lofraro-White of DeLand

Wire-wrapped jewelry from Mary Barge Hoar of St. Louis

Wood writing instruments from Mary Boesdorfer and Jim Harp of Rochester
Many of the veteran exhibitors, like Kansas City-based whimsical pen-and-ink artist Bob Holloway, have cultivated a loyal following at the Lincoln Art Fair. Their booths are generally in the same location so their clients have no trouble finding their newest works.
"Purchasing 'art bucks' is a great way to reward employees or recognize a milestone event," say Ahrends and Hamm. "These dollar-for-dollar vouchers are valued by artists who vie for sales from the Lincoln Art Fair regular buyers."
Other downtown activities on the weekend of the art fair and balloon fest include the used book sale at the Lincoln Public Library, Art of Wine on the courthouse square, a car show and a flea market.
[Text from file received from Marty Ahrends, co-chair, Lincoln Art Fair]