City considering takeover of west-side business sewer line
St. Clara's proposal includes contribution to lift station upgrade

Send a link to a friend
[August 14, 2008] The Lincoln City Council heard how plans to build the new St. Clara's Senior Support Living Facility would affect the city sewer system.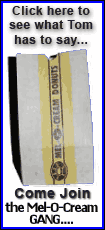 The facility planned would be built on previously undeveloped 20 acres of land in back (south) of the plaza where the old Wal-Mart and current Kroger now sit.

New east-west gravity-fed sewer lines could be laid that would serve both the St. Clara's facility and the future site of the Abraham Lincoln Memorial Hospital. These lines could be hooked up to the current lines serving the plaza to the north, which then go to the Zion Lutheran lift station, which feeds east to the Kmart lift station on the north side of Woodlawn Road and Route 10.

St. Clara's administrator, Frank Shepke, has been working with city engineer Mark Mathon, sewer manager Dave Kitzmiller and Lincoln street superintendent Tracy Jackson.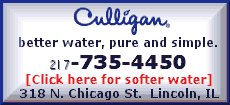 Shepke said that they are negotiating with owners of the plaza, the Lincoln Town Center, to connect to their 8-inch sewer line.
The addition of this facility would push the Zion Lutheran lift station from 40 percent to 61 percent capacity and the Kmart lift station from 75 percent to 88 percent capacity. The addition of the hospital would take the Kmart lift station past capacity.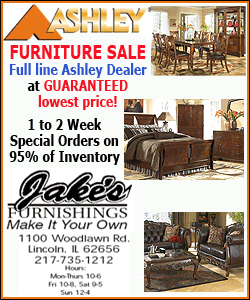 For any further development, both lift stations would need to be upgraded, Kitzmiller said.
Shepke had a proposal with several integrated points. St. Clara's would like to tap into the city sewer through the plaza sewer line and have the city take over its maintenance. In exchange they would help pay for upgrades to the Zion lift station.
To begin this process the city would need to televise the current line. That line has already passed a pressure test and been mandrill tested (where a ball is passed through), and found satisfactory.
City attorney Bill Bates said that there would need to be a signed agreement with the plaza owners for easement and consent to shoot the line.
Shepke thought an agreement could be arranged next week. He said he hopes to be able to break ground on the new project this year.
[By JAN YOUNGQUIST]