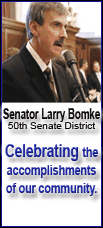 The American won his preliminary heat Friday morning in 50.97 seconds, putting him on track to tie Mark Spitz's record of seven golds in a single games. His time was second overall heading into Saturday morning's final.
Milorad Cavic of Serbia was quickest in 50.92. Phelps' teammate and rival Ian Crocker tied for third overall with Andrew Lauterstein of Australia in 51.27. Crocker is the world record-holder.
Phelps had just finished the medals ceremony for the 200 individual medley, which he won in world-record time, when he immediately returned to the deck for his fly semifinal.