92-year-old Vivian Nelson continues to live life to the fullest. Bucky Washam, maintenance supervisor at the Christian Village, took Vivian on a motorcycle ride out Route 66. "I was impressed when, without hesitation, she climbed right up on the motorcycle, and was ready to ride," Bucky stated. Vivian, who lives at the Christian Village senior apartments, recalled riding with her husband over 60 years ago. "The bikes sure are different now. The ride was surprisingly smooth. It was a lot of fun!"
---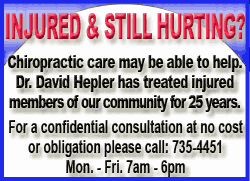 ---

No Memphis blues for this runner
Jon Diers, our Lincoln neighbor who recently ran the Memphis to Peoria St. Jude Relay Race, has more to be proud of. At 66, Jon was the oldest person in the event. He also had a chance to jog with U.S. Representative Ray LaHood during the journey. Jon has advised us that during his conversations with LaHood that he was able to get everything squared away in D.C. Jon doesn't have much time for politicking right now. He is hard running around town getting ready for the October Chicago Marathon. We would love to tell you we will be running with Jon, to get the story of his race through the streets of Chicago, but at 26.5 miles, that dog won't hunt.
---

Hounds and Handbags Purse Sale.
Speaking of dogs, the Humane Society of Logan County will be selling purses during art and balloon fest weekend. The location will be at the Shear Perfection parking lot at 201 N. Kickapoo, right across from Latham Park. They will have designer-inspired handbags based on designs by Kate Spade, Gucci, Dooney and Bourke, Louis Vuitton, Prada, Versace, Chanel and many more. They also will have authentic Liz, Ralph Lauren and Kathy Van Zeeland bags. The price range is a very reasonable $24-$38. All proceeds will go to the construction fund of the shelter. So stop by and get a purse for a pooch or a clutch for a cat.
---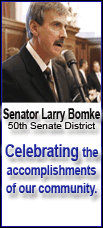 It's hard to beat free food and fun
It's hard to believe but the Lincoln Art and Balloon Festival is just around the corner. Don't forget to start off the weekend of fun by coming over to the Maple Ridge Care Centre at 2202 N. Kickapoo for the Thursday night kickoff. There will be cheeseburgers, hot dogs, pasta salad, baked beans, chips and dessert. Plus this year the live entertainment will feature the Chapparels between 6:00 p.m.-8:00 p.m. Several of the balloon pilots will be there and with more of our current lovely weather, look to the skies that night. We should see our first look at balloons in the county skies that evening. The public is invited and yes that means you.
---
Got a good piece of news, information or something that we can all brag about? If you do, e-mail Mike and let us tell everyone about it. Plus you can win cash. Every submission, whether we use it or not, will get your name in the "Close Up" grab bag. At the end of the month we will draw a name and someone will get $25.00 just for dropping us an e-mail. If you wish, we will be happy to donate your winnings to the organization of your choice. You can contact Mike at mikefak@lincolndailynews.com.
[By MIKE FAK]