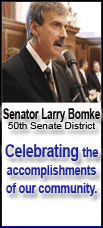 The Lincoln Logan Chamber of Commerce is pleased to announce that they have hired Heidi Browne to fill the event coordinator position. Heidi worked for the Chamber for many years several years ago and has firsthand experience with the Art & Balloon Festival. This will be her fourth year as a volunteer coordinator for the one of the components of the Festival. Heidi comes to the Chamber from Dr. Kotteman's office at Family Medical Center. Her first official day in the office will be Monday, September 8.
---

Summer isn't the time to stop giving blood
Blood donations typically decline during the summer vacation season, especially around the holidays. Many people are out of town and are unable to give blood. Yet the number of trauma cases requiring emergency blood transfusions often rises over the summer holiday weekends, including Labor Day weekend. Consequently, area hospitals and the Blood Center are asking the public to help by donating blood.
To help ensure an adequate blood supply for area hospitals, a blood drive is being held at Faith Lutheran Church located at 2320 North Kickapoo Street in Lincoln on Thursday, August 28, 2008. The hours of the blood drive are 12:00pm - 5:00pm. For your convenience, please call Pat to sign up at 735-4837 or schedule an appointment online at
http://www.cicbc.org/. Walk-ins are also welcome and truly appreciated.
---

Keep abreast of night time balloon launches
If you are wondering how to find out if the balloons are going to launch may we recommend you tune in to 96.3 FM, WLCN on Friday and Saturday evenings between 5:00 p.m. and 7:00 p.m.
Station manager Jim Ash and that old WPRC radio pro, Bob Metz, will be broadcasting live from the airport to keep you informed on what is happening at the Balloon Fest. Jim and Bob will offer interviews and other interesting looks into activities at the airport so turn that dial to 96.3 FM and be informed.
---

YMCA Fall Soccer Reminder
The YMCA will accept registrations for the Y Youth Soccer Program until August 25th. Forms received after August 25th will require a $10 fee increase. This program is for all children age 4 through 8th grades. Each team practices once a week, with games held Saturday mornings at the Lincoln Developmental Center Soccer Fields.
---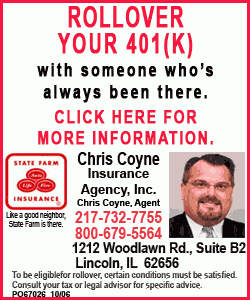 YMCA Biking Blast – The Y is hosting a bike event on September 6th for families, novices, and the cycling enthusiast. The Y will provide a 5 mile course for families and novices. Then they will also provide a 30 mile course for the advanced cyclist. Come out and join them for fun and fitness on September 6.
---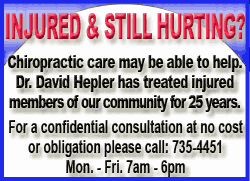 ---

Grand Re-opening at Cashland
Cashland is having a grand re-opening Sat. Sept. 6th from noon to 2:00 p.m. Join them and Ident-A-Kid and the Sheriff's Department! Free Goodie Bags, Coloring contest, free hot dogs, bottled water and chips (while supplies last). Their address is 413 Keokuk St. (Next to Domino's Pizza).
The Ident-A-Kid card is an Immediate Response Card designed to provide parents and law enforcement officials with crucial information should your child become lost or missing. The driver's license-like card contains your child's photograph, fingerprint and description. Parents keep the card with them at all times and, in an emergency, can provide law enforcement with it for immediate response.
---
Got a good piece of news, information or something that we can all brag about? If you do, e-mail Mike and let us tell everyone about it. Plus you can win cash. Every submission, whether we use it or not, will get your name in the "Close Up" grab bag. At the end of the month we will draw a name and someone will get $25.00 just for dropping us an e-mail. If you wish, we will be happy to donate your winnings to the organization of your choice. You can contact Mike at mikefak@lincolndailynews.com.
[By MIKE FAK]