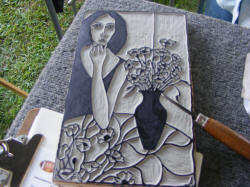 Artist's passion chisels out a winner

Send a link to a friend
[August 25, 2008] From studying drawing with pencil, pen and inks, dry and oil pastels, to painting in watercolor and oils, Alice Jaeger-Ashland, commonly called "A.J.," found printmaking to be her true love. That was in 1981. She took up the study of relief block, stone and plastic lithography, etching, engraving, drypoint and aquatint through the mid-1980s.
In 1988, her passion and full concentration turned to the oldest type of printmaking, that of relief blocks and woodcuts.

"I was a widow, and I had to wait for our four children to be on their own. I had a passion, but I also had to realize I needed to support my family. In 1988, I gave up two jobs and began working on having a large enough selection of prints to open up a small gallery," A.J. said.

She carves her original drawings into blocks of cherry wood or end-grain maple with old-fashioned wood chisels and gouges. She then rolls permanent print block inks onto the blocks, lays natural fiber, acid-free paper on the inked block and then burnishes the back of the paper with hand tools. Thus the ink is pulled from the block onto the paper, creating an original print. She then works with key and multiple blocks (for color separation) and then hand colors each print with permanent inks.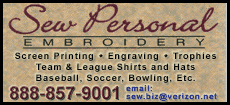 "I opened up my shop with 20 different prints," A.J. recalled. "Since then my collection of prints has grown as has my customer base of loyal clients."
A.J. becomes quickly animated when talking about art. "I love it. There are so many different kinds of art and I appreciate them all," she said. "I especially enjoy going to art fairs such as these to visit with other artists and to just talk with people. "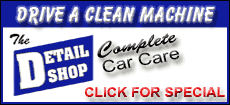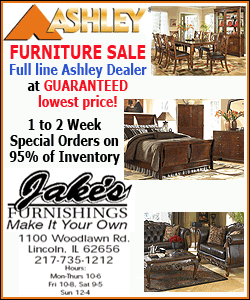 Although she has found her passion in the print block medium, she has as much joy and enthusiasm in looking at other forms of creativity.
"Art is just like music. You can appreciate different musicians playing different instruments. You can also appreciate different types of music."
A.J. admits these art exhibits are important in keeping a balance in her life. "I can sit down and start working on something and before I know it, five hours or the whole day is already over. I enjoy getting out and visiting, and I also get some new ideas for more prints everywhere I go," she said.
"Sometimes, I have an idea in my head for a year before I believe I can make it just the way I want it."
Considering A.J. won Best of Show at the 35th annual Lincoln Art Fair with so many accomplished artists and artisans on hand, it seems those yearlong ideas have paid off.
[By MIKE FAK]