Lincoln Art & Balloon Festival past
Alderwoman Jonie Tibbs recalled the success of this past weekend's Art & Balloon Festival, saying that we had a wonderful weekend here. It got mighty, mighty hot, which affected most of the activities on Saturday, but the historic churches tour and open house was well-attended, she said. The balloon fest went very well. "And we had gangs of people here. I know everyone enjoyed their weekend," Tibbs said.
Streets superintendent Tracy Jackson and his gang were thanked for all of their help with the festival.
Abraham Lincoln to rally at Logan County Courthouse
The place to be on Oct. 16 at 1 p.m. is in front of the Logan County Courthouse. It will be 150 years to the day when Abraham Lincoln rode in on a train and stood on our courthouse steps for a rally. A detailed re-enactment of the entire event from train station to the courthouse is planned.
"This is a very historic event. It is going to be one of the highlights of our bicentennial and is part of a series of events that will continue until next year," said Chuck Conzo, a member of the Abraham Lincoln Bicentennial Commission of Lincoln.
Participants will be in period costume, and customs of the day, reconstructed or created dialogue will be followed as closely as possible during the event. It is hoped that many people will attend in period clothing, Conzo said. Anyone with authentic period clothing is encouraged to wear it.
Some area schools are planning early dismissal in order for children to attend and have assigned related projects to the children.
The event is expected to draw residents from around the county and beyond.
This and other bicentennial events will emphasize our heritage and legacy, Conzo said.
Signs to stay under moratorium
Progress on a new ordinance that would update and separate signs and billboards has been tedious. The committee still has much work to do after two lengthy committee meetings. A moratorium on any new signs is set to lapse in mid-September. Alderwoman Wanda Lee Rohlfs requested city attorney Bill Bates to draft an ordinance that would extend the moratorium deadline, saying that the new sign ordinance has been "cumbersome."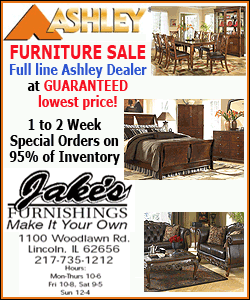 Generator repair
A perennial topic, sewers, was another point of discussion for the evening. Wastewater treatment manager Dave Kitzmiller informed the council of a possible high-cost repair needed at the treatment facility.
The oldest of three generators is down with a partial failure. The plant can handle regular operation without the use of this generator. However, it would supply power to the storm water pump. If heavy rains fell, not having the power it supplies for the pumps would jeopardize EPA standards at the plant.
A standby pump has been rented in the meantime. Its cost is $6,600 per month plus mobilization.
A repairman is scheduled to arrive Wednesday morning to see what the problem is and if it can be repaired or would need replacing.
Lastly, Kitzmiller said that he got a couple of quick bids for street patches between Union and College streets. One was for $17,500 and the other a little over $22,000. Neitzel and Alderman Buzz Busby said that they don't see it as an emergency and would rather go out for additional bids.
[By JAN YOUNGQUIST]
Previous related article