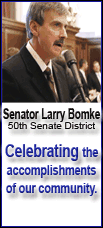 Fay also could produce scattered showers in southern New England and the Southeast. The Gulf Coast was bracing for Tropical Storm Gustav, which was expected to strengthen into a hurricane by Friday afternoon and hit somewhere between the Florida Panhandle and Texas in the next several days.
A cold front was expected to swing through the Plains and Great Lakes on Thursday, causing showers and thunderstorms from Kansas through Wisconsin and Michigan.
A high pressure system extending from the West Coast to the Plains was forecast to bring hot, dry temperatures to much of the West. Record high temperatures were possible in many areas.
The Northeast was forecast to rise into the 70s and 80s, while the Southeast was to see temperatures in the 80s and 90s. The southern Plains were expected to rise into the 90s and 100s, while the Southwest and California were to see temperatures well into the 100s.
Temperatures in the Lower 48 states Wednesday ranged from a low of 24 degrees at Boulder, Wyo., to a high of 118 degrees at Death Valley, Calif.
___