Lincoln Montessori House teaching more than students
Two new teachers set for certification

Send a link to a friend
[August 29, 2008] The Lincoln Montessori House does more than just teach students. It also teaches adults how to become teachers in the Montessori system.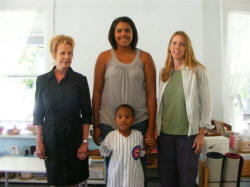 Pictured from left to right: Bethany Vickers, founder of the Lincoln Montessori House; Kristina Cook and Laura Schafer, teachers; and young Payton Cook.
Click on picture for larger image.
Bethany Vickers, a 30-year Montessori educational professional and the founder of the Lincoln Montessori House, currently has two young women on their way to being certified.

They are Kristina Cook, age 25, from Lincoln, and Laura Schafer, 39, a resident of Greenview.

Cook, born and raised in Lincoln, will be finishing up her studies this semester at Lincoln Christian College with a bachelor's in general ministries and expects to work on a master's in teaching. She has interned at the Lincoln Montessori House as part of her curriculum.

The mother of 3-year-old Payton, Cook says she intends to continue a teaching career and believes in the Montessori system. Although a Lincoln native, Cook has her eyes on moving somewhere warmer, and the Montessori certificate will be invaluable wherever she ends up.

"The teaching certificate from Montessori is accepted at every Montessori school throughout the country. Unlike most state school systems, which require you to become certified in their district, I can start a job anywhere I end up without worrying about spending the time getting certified," Cook elaborated.

Although Cook prefers a warmer climate, she has nothing but the warmest regards for her mentor Bethany Vickers. "This has been a great experience working and learning from Bethany," she said.
Schafer is a graduate of Southern Illinois University, and she too will receive her certificate at the end of the year. A former special education substitute teacher in the Springfield Public School system, Schafer also finds enjoyment and satisfaction in using the Montessori system. She had some experience in seeing the Montessori system firsthand but didn't think she could become involved at first because of distance. "I was elated to find a Montessori House in Lincoln. Otherwise the nearest locations were in Chicago or Saint Louis, and that would be too far to commute. That just wouldn't work with my own 3-year-old," Schafer stated.
Both Cook and Schafer agree that Montessori allows a child to use their natural enthusiasm and inquisitiveness to create an interesting and enjoyable learning experience. Both also agree that this is how they want their children to be educated. The classes are smaller, there is no peer pressure, and teachers are there to help students advance by helping children as they live and learn in a natural, mixed-age group, which is very much like the society they will live in as adults
Although the current semester is beginning, Vickers advised that parents who wish more information about the Lincoln Montessori House and its program, or who want to enroll their child, can still contact her at 217-737-1463.
The house is located at 406 Keokuk St., across from the Lincoln College Museum.
[By MIKE FAK]
Additional information can also be found at www.lincolnilmontessori.org.
Past related article