September is Baby Safety Month

Send a link to a friend
[August 29, 2008] September is Baby Safety Month, and the Logan County chapter of Safe Kids reminds parents and caregivers to plan ahead to make safe spaces for babies "at home, at play and on the way."
Laurie McPherson, chapter coordinator, has the following safety tips for children ages 0-3:Remove pillows, soft bedding and toys from crib; put your baby "back to sleep" (face up) on a firm mattress. Keep cribs away from windows and furniture. Install guards on windows that you will open, and tie up cords on curtains and blinds. Install smoke alarms on every floor and outside all sleeping areas. Install safety gates at top and bottom of stairs.

In the kitchen:

Never leave a hot stove unattended. Keep hot liquids, poisons and electrical cords out of reach, and keep cleaning products and other poisons locked out of reach. Don't let children under age 3 eat small, round or hard foods such as hot dogs, grapes, hard candy, nuts or popcorn.

In the bath:

Mix hot and cold water together, and test the temperature before putting the baby in. Set your hot water heater to 120 degrees to help prevent scalding. Never leave a baby alone in the bath.

On the playground:

Actively supervise children on the playground -- be within arm's reach. Avoid playgrounds with asphalt surfaces. Don't let kids wear jewelry or drawstring clothes on the playground. Pools should be fenced on all four sides and have self-closing gates.

In the car:

Children under 13 should always ride in the back seat in proper restraints. Babies under 1 year old and 20 pounds must ride in a rear-facing car seat, reclined at a 45-degree angle. Always check the harness for proper fit.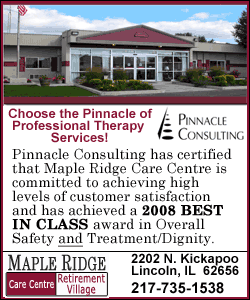 Baby Safety Month is an annual observance led by the Juvenile Products Manufacturers Association since 1991. The theme of this year's program is "Baby Safety -- A Partnership," a reminder that baby safety is a shared responsibility of product manufacturers, retailers, health care providers, child advocacy organizations, government agencies and the community at large, as well as parents and caregivers. For more information, visit www.jpma.org.
For more information about baby safety topics such as childproofing, scalding, playground safety, drowning prevention and child passenger safety, call 217-735-2317 or visit www.usa.safekids.org.
Safe Kids works to prevent accidental childhood injury, the leading killer of children 14 years of age and under. The Logan County chapter is a member of Safe Kids Worldwide, a global network of organizations dedicated to preventing accidental injury, and is coordinated through the Logan County Health Department.
[Text from file received from Logan County Health Department]